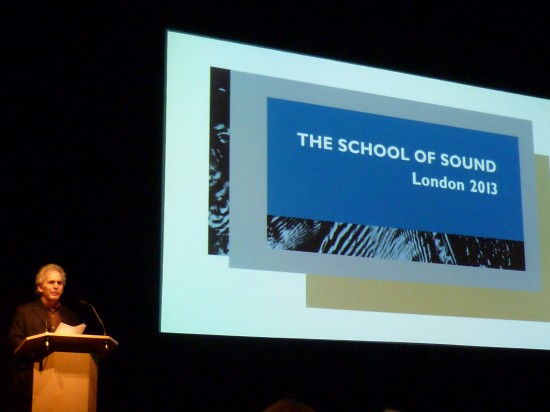 A SCHOOL OF SOUND
A unique series of masterclasses exploring the art of sound in film, the arts and media taking place at the Purcell Rooms on the South Bank for four days in April.
Wednesday 3 APRIL
After a brief introduction to the tenth Symposium in 20 years, we kicked off with PIERS PLOWRIGHT, celebrated Radio broadcaster with the BBC: A Listening Life + A History of a World in 20 Sound Clips.
Examples made of poet Robert Frost, Hitchcock's The Lady Vanishes, Chekov for his pauses and Neruda in terms of the power of poetry to lift the human spirit.
What you see and what you hear can be two very different things.
A great way to open the symposium, Piers is a legend of the game, a wise man and a funny man to boot. His foray into the world of sound was a personal one, but no worse for it.
·       The silence when the lights go down and before the curtain goes up… the space we expect things to happen in.
·       And the silence after the show ends but before the audience applauds.
There then followed ALEX BERNER, features film editor (Cloud Atlas, The Baader Meinhof Complex, Perfume: The Story of a Murderer) on the integration of music and sound in preparing a picture cut for cinema. Alex was in conversation with SU NICHOLLS GÄRTNER, Head of Studies at the Internationale Filmschule Köln (ifs).
A more relaxed ramble, less structured, but very insightful nonetheless into the need for Sound Designer and Composer to be onboard as early as possible in the process of filmmaking, especially considering their key contribution to the finished article. These things tend to be budget lead though. Interesting example of sound used in place of smell in the film Perfume.
ANDREW KÖTTING, filmmaker (Gallivant, Swandown) and multimedia artist, speaking on 'Trace Elements and Noise Spillage+ How Sound has always been the Motor for My Picture' was the other highlight of the day. A very funny man, coming at sound from a very different perspective; that of an artist.
Interesting in how he chooses to utilize sound against the picture often rather than with it.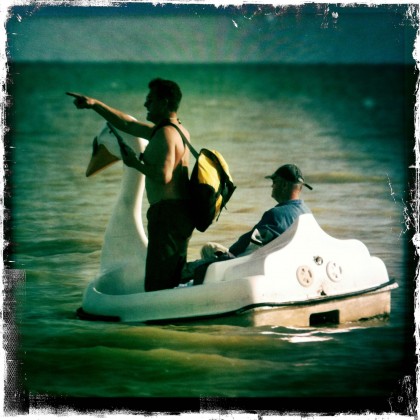 Thursday 4
SEÁN STREET, delves into his book, The Poetry of Radio + The Colour of Sound, to investigate topics including the power of the Human voice, alienation using sound art, audio as a one to one experience within developing technologies, sound as the driving force of the human imagination, as well! as his current preoccupation, sound and human memory.
Some great references, including Under Milk Wood, Samuel Becket and Ann Friz.
www.seanstreet.com
ANNE WOOD, from Ragdoll, producer of childrens' television (including the acclaimed Teletubbies, DipDap, Rose And Jim) on Hearing and Listening: A Young Child's World, with sound designer TIM VINE. An impressive lecture, concerning the extremely different world that TV for the very young entails, especially in terms of sound.
·       The use of background and foreground sound effects
·       Ensuring the theme tune is a call to the screen for the children, to then 'enfold' them.
·       Children live in the same world a adults, but perceive it differently
·       The use of sound rhythms and breaking them to create humour.
·       Never underestimating the importance of 'silly' in the entertainment of children.
·       Avoiding loud and high-pitched noises.
·       Innocence and vulnerability- too knowing lacks feeling.
·       The importance of the audience anticipating certain noises and having them fulfilled.
·       Program needs to be shared and with the room left for the child to react.
DAVID SONNENSCHEIN, writer, producer, director, sound designer and game developer, presents The Art of Listening:
Creating Audio for Film and Interactive Media. Theoretical models and practical applications demonstrate various creative sound design approaches, including the presenter's Sound Spheres model and new music game app 3 Deaf Mice.
Sound and Narrative Structure-
Sound that helps tell the narrative story… augments the telling.
Sound Spheres-
· I Think-    memories, daydreams, mental rehearsal, etc.
· I Am-       speaking, heartbeat, breathing, chewing, etc
· I Touch- (Foley) Footsteps, clothing noise, food, contact sports, etc
· I See-      TV, cars passing, etc
· I Know – people talking outside our sphere, birds, wind, etc
· I Don't Know- no causal source/ unknown sound, maybe getting louder (used alot in  Horror)
The drama is driven from the movement between these spheres.
BERNIE KRAUSE, a naturalist and former professional musician who records the sounds of animals, presents 'The Great Animal Orchestra', focusing on the ways in which the sounds of the natural world contain narratives that convey lots of useful information about how humans are treating that universe, And The cultural influences we have derived from it. In particular, it illuminates our connection To 'biophony' and the ways in which animals taught us to dance and sing. Via videolink from the USA.
An incredibly interesting lecture, from a man who suffers from ADHD and used the discipline of recording nature as a means of combatting this. Has made some extraordinary recordings and discoveries from doing so.
Drawing some amazing parallels between the use of sound space by animals with the structure that we use to create classical music. For instance, the different sound pitches employed by insects, reptiles/amphibians, mammals and birds, each taking a different vocal register.
Research also leading to the discovery of the impact of planes flying over a swamp of frogs, sound impacting on bird song and on ocean animals. Of de-forestation. How animals continually test their space for the best bio-acoustic structure and performance constantly evolves.
Friday 5
LARRY SIDER introduced EMAS, the new European MA in Sound.
MARK MILTON, mentor and advisor in self-leadership and governance, founder of the Swiss foundation Education4Peace: 'From Noise to Empathy', the path to presence + ways of listening.
An interesting alternative side to the 'sound' debate, with Mark enlisting the audience to take part in listening exercises. Discussed Maslow's Pyramid of Needs-
Self-Actualisation
Esteem
Belongingness and Love
Safety
Biological and Physiological needs
'Needs' is where connections happen.
www.e4p.org
ROGER CRITTENDEN, editor, writer and film educator: 'Space in Varda: A sound perspective', on the soundtracks of French filmmaker Agnes Varda and more.
'Our future is in the past'.
Referenced Truffaut's Day For Night, Ozu and Tarkowski.
History is always simplified for film, but never to the good.
Sound, when juxtaposed and not synchronous, will create a strength and artistic height that synchronous sound never will.
JOE MORAN, choreographer, dancer and Artistic Director of the Dance Art Foundation, gave a talk on the relationship between movement and sound in the creation and performance of contemporary and Post-modern dance. He reflects on composition as a meeting point between sound and movement in new work, and considers the Historical perspectives concerned with more Classical notions of musicality in dance. For tis, he employed three dancers who managed to work, improvise and come up with a new dance sequence guided by Joe, who ran through a potted history of dance from classical through to where we are today n terms of dance and its relationship to music.
Referenced :
·       RB
·       Martha Graham- dancing from the standpoint of emotion.
·       Merce Cunningham- divorcing the causality between music and dance.
·       Rambert.
HOLLY ROGERS, lecturer and researcher (University of Liverpool), on Video Art as a musical/sonic genre, concentrating on the earlier period of work (Paik, Vasulka, Schneider and Jonas), and tracing developments into new media. (Utterback, Erickson, Rist, Viloa, Bjork, Arcade Fire). Three Turner winners have been video installations. An in-depth exploration of the work of Paik in video, at a time when no one else was doing it.
Taking us back to the inception of video in 1965 and the route that it has taken since; that video is far more related to the microphone and 'digital' rather than film, which has the mechanical/chemical ancestry of photography.
PAT JACKSON, Supervising Sound Editor whose credits include Jarhead, The Talented Mr Ripley, A Bug's Life and The English Patient, presents The Discriminating Ear, focusing our attention on how we hear the real world and the level of audio detail needed for a film world.
An exploration into how sound works and convinces us that the picture is real and that it doesn't need to be loud to be good.
Great examples of sound in film, where less can often be more. And the use of production sound is very often the better choice over ADR and reconstruction.
It is often possible to cut picture, but not sound without being noticed.
Using sound as the hook to bring an audience into a picture.
Referenced:
K19 Widowmaker
Jarhead
Hemingway and Gellhorn
Microcosmos
Titanic
The Social Network
Abbas Kaurostami
Saturday 6
Saturday morning gave us all a chance to MEET THE SPEAKERS and an opportunity to ask further questions in an informal gathering in the Purcell Room Foyer.
This was followed by THE SOUND OF MIKE GRIGSBY –an interview with the documentary filmmaker who died on March 12th made for the 2000 SOS, by event organiser and friend, Larry Sider.
Grigsby described his approach to the manipulation of sound and image, illustrating that creative sound is due as much to a strong point of view as to technical expertise.
This was followed by an excerpt from his final film, up on We Were Soldiers documenting the trauma on young soldiers returning from the Vietnam war, with the same subjects 40 years on in We Went To War.
[youtube id="iDst1sgNEGw" width="600″ height="350″]
CHRIS WATSON, one of the world's leading recorders of wildlife and natural phenomena who also uses his recordings in sound installations, multi-channel works and as filmic narratives for Touch. Chris presents '90 degrees South', a sonic exploration of the sea ice above and below the surface of a frozen ocean. He worked on a great many seminal works, including Frozen Planet with Sir Richard Attenborough.
An epic and inspirational journey through the worlds oceans, glaciers and whales with extraordinary recordings and observations, plus a trip to Terra Nova, the Antarctic base hut that the doomed Scott expedition to the South Pole set out from 100 years ago.
Covered the impact of sound pollution beneath the waves, from prop noise as much as sonar.
IVO ŠPALJ AND THE SOUND OF JAN ŠVANKMAJER video interview. Špalj, the doyen of Czech film sound design, an artist in the use of Foley effects, best known for his work with artist Jan Švankmajer, is profiled in a video interview produced by the SOS.
A thorough examination of Svankmajer's work through long-term collaborator Spalj and the use of sound effects to create the fantasy worlds explored by Svankmejer's films. Extraordinary insight into the creation and impact of the sound created, never using digital or electronic sounds.
STEPHEN DEUTSCH composer, educator, writer and Co-editor of The New Soundtrack journal, suggests Changing the Way We Feel About Sound.
Immersion, emotion and Potential.
Literal Sounds -make us believe what we see
Emotive Sounds  -encourage us to feel something about what we see
Music is always emotive, but can lose its impact if it's always present.
In works of art, there is no depth, only surface.
A work of art offers the audience room to bring depth to it.
References:
Psycho  –                 Hitchcock
Psycho  –                 Gus van Sant
Stalker  –                 Tarkovski
www.schoolofsound.co.uk