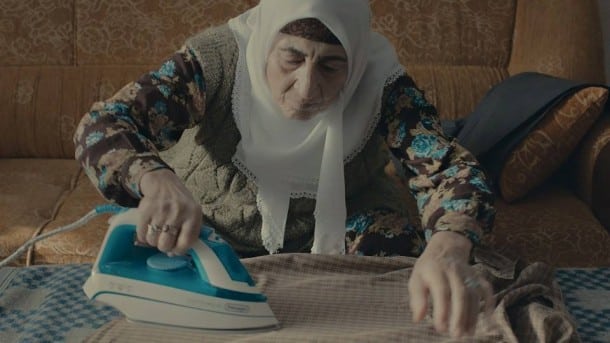 Director: Erol Mintaş
Writer: Erol Mintaş
Cast: Feyyaz Duman, Zübeyde Ronahi, Nesrin Cavadzade
Turkey/France/Germany Drama 103 min 2014
The diasporic, purgatorial character of the present-day Kurdish identity is both the forefront and subtext of SONG OF MY MOTHER (KLAMA DAYIKA MIN), writer-director Erol Mintaş' subtly layered, digestibly low-key feature debut in which Ali (Feyyaz Duman), a primary school teacher, lives in Istanbul with his mother Nigar (Zübeyde Ronahi), who longs to return to her home village in south-east Turkey. The film picked up the top gong when it premiered at Sarajevo Film Festival last August, and deservingly won the Golden Olive Tree at Lecce's Festival del Cinema Europeo last week—where it bested nine other films in the Official Competition.
Kurdish identity is an inherently politicised subject matter today, concerning as it does the 40 million Kurdish people who live under conditions that effectively deny them political autonomy: Kurdistan is a geo-cultural region, not a recognised nation, spanning southeastern Turkey, northern Syria, northern Iraq and western Iran. SONG OF MY MOTHER begins in 1992, in Turkish Kurdistan, when masked men of the local gendarmerie kidnap Ali during a school lesson; events thereafter take place in 2013, years after his forced relocation. The reason why this accomplished film appears to be both direct and subtle is in the way it strips its protagonist's life to an unvarnished, almost neo-realist minimalism, so that the deeper traumas simmer at the edges. Indeed, Mintaş is seemingly attuned to the fact that the existential and cultural crises that stem from enforced displacement don't necessarily manifest themselves in explicit ways—and yet in some way they determine much of what constitutes everyday life.
To this end, Mintaş opts for a narrative style that is both naturalist and poetic—the former perhaps embodied best by Ali's pregnant girlfriend Zeynep (Nesrin Cavadzade), and the latter by Nigar, whose increasing anxiety to return home gives the film its most visibly politicised thrust. Though the film risks confusing international audiences less familiar with the Kurdish plight, one can't deny Mintaş the right to cut straight to the point—from 1992 to 2013—and though it might be overstating maters to refer to those many films that take viewers' familiarity something like 9/11 for granted, Mintaş' trust in his audience to do some of the work themselves is quietly refreshing and wholly justified. Though the film doesn't state it, some 378,000 Kurdish villagers were left homeless inside Turkish borders alone in the 1990s, when forces seeking to quell the Kurdistan Workers' Party upped their efforts to coerce locals into pledging allegiances to the Turkish government.
A film of this ilk needs compelling direction and performances—so that its verisimilitude can carry both the potentially oblique politicism and the folkloric feel of the simple narrative structure. Working with cinematographer George Chiper-Lillemark, Mintaş opts for a clear, unfussy palette and the gentle handheld adds an obvious but by no means overstated sense of restlessness to the characters' respective ongoing predicaments. As much of the film's scenes take place in the close confines of low-rent domesticity, director and DoP do well to keep things relatively unintrusive, filming performers in medium-long shots to allow for a fuller bodily expression—a style always welcome when more and more filmmakers are mistaking verité-style close-ups for genuine intimacy.
Under Mintaş' direction, the cast knows that less is more—but a crucial strength of the film is the director's own script, which eschews the dreary non-committal pseudo-poetics of many festival-bound pictures in favour of characters who actually talk to one another. As Ali, a man burdened with ties to the past and apprehension regarding the future, Duman must have an empathetic quality at the same time as appearing plausibly prone to indecision or even cowardice—as exemplified most when he asks a doctor about abortion options without having asked first discussed it with Zeynep.
Such cowardice—if it is that—isn't Ali's sole defining quality, and where SONG OF MY MOTHER really excels is in its refusal to judge, and its efforts to contextualise, its protagonist's actions. A large part of such context has to do with geography. As key as its indoor conversations are, the film carries a vivid, anchoring sense of place when depicting Istanbul's Tarlabaşı neighbourhood, the area of 20,000 square metres to which Kurds migrated en masse during the 1990s. MICHAEL PATTISON
The London Turkish Film Festival 7 -17 May 2015 | REVIEWS ON OTHER TITLES IN THE FESTIVAL