Dir: Kristijonas Vildžiūnas | Lithuania, Drama 125′
There's a magical lyrical quality to Songs for a Fox which seems to echo the director's previous life as a rock musician before becoming a filmmaker with a string of features, winning the special jury prize at Tallinn for You Am I (2006).
Set in the glorious summery meadows and swampy woods of Lithuania Songs follows emotionally vulnerable rock singer Danius who escapes to the bucolic paradise to get over the death of his girlfriend. He may run but can't hide from the haunting memories of their time together and she appears in woozy dream sequences as he slips in and out of reality, in a script loosely based on the myth of Orpheus and Eurydice, and also inspired by Lithuanian folklore.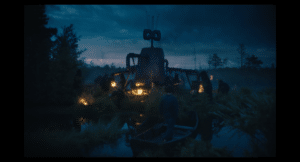 The story gradually unravels inside his subconscious while reality is firmly tethered to the wild landscapes of this post soviet nation lucidly captured by Jurgis Kmins' camera blending 3D animation, VFX and evocative wildlife images to echo Greek mythology, medieval folklore, paintings by Pieter Bruegel and Shakespeare's Midsummer Night's' Dream.
This imaginative visual backcloth is accompanied by a surreal soundscape of newly recorded songs by cult Lithuanian band 'Šiaurės kryptis' in a fable about love, longing and the circle of life. MT
TALLINN BLACK NIGHTS FILM FESTIVAL | 12 -28 NOVEMBER 2021