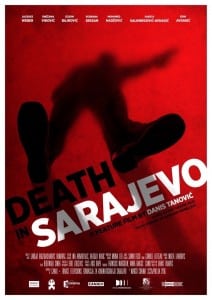 Dir: Danis Tanović | 'Cast: Jacques Weber, Snežana Vidović, Izudin Bajrović, Vedrana Seksan, Muhamed Hadžović, Faketa Salihbegović-Avdagić, Edin Avdagić | Drama | France / Bosnia Herzegovina, 85'
In DEATH IN SARAJEVO Danis Tanovic returns to his roots to pick the festering scab of Bosnia's bloody past with a film that will have little appeal to those beyond its boundaries, unless devotees of Balkan history.
Punchy and to the point, the Oscar winning director wastes no time in getting down and dirty with a rather dusty and dog-eared snapshot of history taking place on the centenary of the assassination of Austrian Archduke Ferdinand, the death that catapulted Europe into the First World War. In a 'luxury' debt-ridden hotel, built for the 1984 Olympics but now looking rather tired and hasbeen, the manager Omer (Izudin Bajrovic) is avidly preparing for a VIP dinner. Always on the move, his efficient head receptionist Lamija (Jennifer Lopez-a-like Snezana Vidovic) is strutting around in high heels making sure everything goes to plan, while downstairs her rotund mother Hatidza (Faketa Salihbegovic-Avdagic) rouses colleagues into strike action over unpaid wages.
Loosely adapted from Hotel Europe, a play by Bernard-Henri Levy that was recently performed in Sarajevo by Jacques Weber, the man himself returns as a version of himself, to address the assembled dignitaries. On his arrival, Omer assures the Frenchman of the hotel's gold plated credentials and illustrious former guests such as Bill Clinton and Angelina Jolie, before the French retires to polish up his oratory. The hotel's less public areas also harbour a collection of brutal Bosnian gangsters, who are doing their drug-related stuff in basement corridors while upstairs Omer tries to maintain a brave face on impending doom. On a rooftop location, Robert Paxton-style news reporter Vedrana (Vedrana Seksan) is debating Sarajevo's war-torn history with a Serb nationalist (Muhamed Hadzovic) who oddly has the same name as Ferdinand's assassion, Gavrilo Princip, but is infact a distant relative. Naturally, Princip was a divisive figure in Bosnian politics and Vedrana lays into the young Serb in a vituperative onslaught. He too is bitter and the pair wrangle, making their scenes together feel like a preachy lecture where sparks fly but attempts to clarify history remain mired in anger and reproach.
Despite the director's best efforts, this potential noir thriller feels overly didactic, lacking the subtle nuance that could have made it the slow-burning psychological thriller suggested by its edgy posterwork. All the elements are there: intrigue, gangsters, suggestive locations and a sexually predatory lead, but it lacks the dramatic torque to make it really gripping and suspenseful. In the event, it feels tediously confusing rather than satisfyingly complex, seeking to raise a gritty debate without bringing anything new to the table. If you hoped for clarification – none is offered; if you hoped for entertainment – you get a punch on the nose. DEATH IN SARAJEVO entices us to a party but the bouncers send us briskly home. MT
BERGAMO FILM MEETING 2022 | EUROPE, NOW DENIS TANOVIC SPOTLIGHT