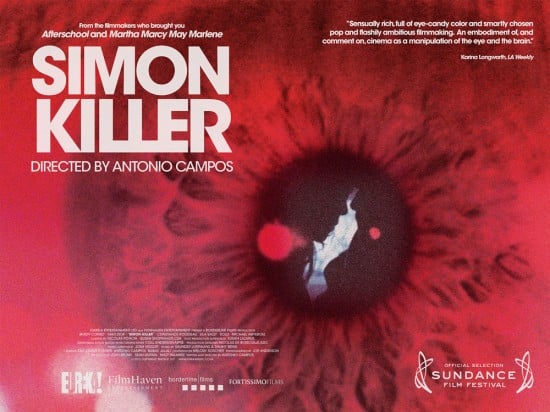 Director/Writer: Antonio Campos
Cast: Brady Corbet, Mati Diop, Lila Salet, Michael Abiteboul, Solo, Constance Rousseau

105min   US Psychological drama 

Simon Killer is subversive in tone: you get the overriding impression that it's being filmed covertly or by a hidden camera possibly due to the slightly muffled sound effects and a close range hand-help camera that give it an unsettling feeling of doom-laden urgency with  a subtle and syncopated score occasionally and abrubtly punctured by long periods of uncomfortable silence.

Simon is clearly a disturbed, self-absorbed and morose individual: an American who's moved to Paris and has just finished a long term love affair due to his ex girlfriend's infidelity and this plays on his mind. Sexually he's also very pent-up and troubled by his past and this comes across in his relationships with the people he comes across in this foreign city.
Paris feels like a dangerous in Simon Killer.  Not the romantic city of dreams billed but a hostile, jagged and unfriendly place harbouring criminals types and the disenfranchised.

Simon eventually hooks up with a mysterious French call girl who offers him casual sex and the two become close when Simon asks her for temporary refuge. He becomes increasingly emotionally and sexually involved with her in scenes that feel authentic and visceral. The camera plays on their torsos and occasionally scans across the room in an unsettling way and the two engage in experimental and brutal sex that's explicit and intermingled with feelings from the past for Simon, as he begins a slow and disturbing downwood spiralling into his fate.  

This is a first rate mesmerizing psychological thriller that's stylishly produced and pulsating with believable performances from the writer and director of the acclaimed Afterschool.MT
SIMON KILLER IS ON GENERAL RELEASE FROM 12 APRIL 2013