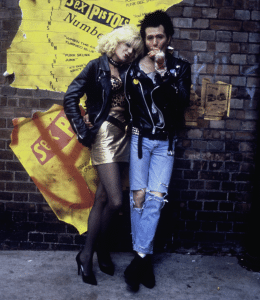 Director: Alex Cox
Cast: Gary Oldman, Chloe Webb, David Hayman, Andrew Schofield, Courtney Love
112min | Biopic | UK
Far the most interesting thing about the Sex Pistols was their music. The story of the band is, for the most part, unedifying and one that Alex Cox and Abbe Wool's narrative does no favours in the re-telling via the love story between bassist Sid Vicious (Gary Oldman) and his girlfriend Nancy Spungen (Chloe Webb) in this tame '80s biopic. Intimate in scale and shot largely within the claustrophobic confines of sordid bedrooms, New York hotels and bars, Sid and Nancy is gut-retchingly unappetising (puking and bodily fluids abound – but at least the blood looks authentic) but there are a handful of scenes where DoP Roger Deakins' masterful cinematography is really given reins to take flight – when the band goes on tour in the US and the final scene encompassing the magnificent Manhattan skyline shrouded in morning fog, which must rank amongst the most memorable of any committed to celluloid during the 80s. The score features a smattering of iconic tracks but we are well into the first half hour before any are played in a truncated 'on-stage' gig in a small bar. This is not a film to see if you're hoping to hear The Sex Pistols malevolent musical brilliance.
The film opens at the end of 1978 in the immediate aftermath to Spungen's death in the Hotel Chelsea, where the couple lived, with the police questioning a catatonic Sid Vicious over his involvement. Flashing back to a year earlier, Johnny Rotten (Andrew Schofield) and Sid have just met drugged-up groupie Nancy, whom Sid eventually starts dating, feeling sorry for her sad plight and following her into heroin addiction, which will eventually claim his own life the following year. Their love gradually drives a wedge between Sid and the rest of the band, and a disastrous American tour sees Sid go off the rails, destabilised by Nancy's neediness, a result of her unhappy childhood. Back in New York, the couple reunite with Nancy attempting to manage Sid's solo career, organising gigs which never actually pan out. In the midst of Nancy's depression, Sid decides to return to England and the two argue in a drug-induced haze that eventually comes to a tragic end.
Gary Oldman is the only star turn here, loose-limbed and lithe as he weaves from mouthy punk performances to a profanity-ridden 'My Way' version, set on a neon sweeping staircase, in an early music video. Webb is true to her character, an annoying, whiny irritant swathed in tattoos and bruises, with no saving graces and not particularly good acting at that. The band's guru Malcolm McLaren is convincingly played by David Hayman rocking an ill-advised rusty wig.  Schofield's turn as Johnny Rotten – the only one who seems to have made good – is gutsy and plausible. There is also a welcome glimpse of Courtney Love in a cameo role. But none of the edgy blast of anger that was punk really comes through here as we remember it. Everything feels rather stagey and timid compared to the real thing.
Attempts to recreate a socio-political backdrop of British life to this romanticised counterculture feel largely false and rather tacked on: a Luncheon Voucher banner in a newsagents, the famous Saatchi poster, 'Labour Isn't Working' and detectives in tweeds and heavy-rimmed glasses. The US scenes fare far better feeling fresh and original and particularly a final track of street kids boogieing with a transister to KC and the Sunshine Band's 'Get Down Tonight' (1975). That and the Manhattan skyline make Sid and Nancy worth seeing, if you can sit through the rest of it. MT
BACK IN CINEMAS 5 AUGUST AND BLURAY\DVD OUT ON AUGUST 29 2016