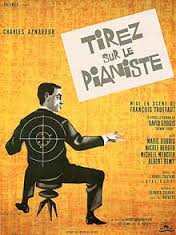 Writer|Director: François Truffaut | Story: David Goodis "Down There"
Cast: Charles Aznavour, Marie Dubois, Nicole Berger, Michèle Mercier
92min | Drama | France
For many admirers of the French New Wave, Tirez Sur le Pianiste is a key film. Perhaps even more than Godard's A Bout de Souffle it wilfully and playfully broke the textbook rules on filmmaking that were perceived to have become so rigid in the 1950s. Truffaut described it as an "explosion of a genre". From a pastiche film-noir base (chiefly modelled on Fuller, Lang and Ray) Truffaut gleefully shook up and conflated the gangster film, romance, melodrama, comedy and musical into an existential mindset of delightful lightness and disconcerting darkness.
Edward Saroyan (a marvellous self-effacing performance by Charles Aznavour) is a famous classical pianist who abandons his career after his wife's suicide. Going under the name of Charlie Kohler he's employed playing upbeat jazz piano with a group in a dive of a bar. Charlie's two brothers get involved with gangsters and he's dragged into the affair. A waitress Lena (Marie Dubois) falls in love with Charlie. She does her best to help Charlie after he 'accidentally' kills the landlord, Plyne (Serge Davri).
Tirez sur le Pianiste is reflectively anti all the genres it parades and explodes, so as to fashion them into something less genre burdened, more anxious to be genre free. All the cinematic cards are thrown up into the air and we experience how they come down. When they hit the floor, there's no mess but many playful indicators of a fresh order of filmmaking. Tirez sur le Pianiste remains constantly modern and exciting; continually shifting its evasive form and content. An extended flashback describes the background to Charlie's career. Inside this part digression a sequence of shots succinctly conveys his ambivalence. Charlie arrives for an important audition with a music agent. Cut to a huge close-up of his finger about to ring the bell of his door. Cut to a woman who has just been auditioned, and looks like she's been rejected. Charlie watches her leave. Truffaut returns to the woman (looking hurt) walking down a corridor. On the soundtrack we hear (but never see) Charlie's piano audition. Success, failure, sexual attraction, uncertainty, diffidence, freedom of action and choices, both artistic and sexual, are suggested on and off screen. Multiple possibilities for the film's journey are presented to the viewer, director and Charlie our conflicted and melancholic hero. Truffaut brilliantly portrays dramatic indecision whilst paradoxically opening up his free-flowing story for even further development.
Tirez sur le Pianiste never leads to a proper resolution but still makes for a deeply satisfying film. For Truffaut's framing of shots, assisted by Raoul Coutard's expressive monochrome photography, mean that Charlie's loose aims and real needs are precisely handled. With the accompaniment of George Delerue's lovely music, the vivid spontaneity of the whole cast and an exhilarating use of city and country locations, it all makes up for Truffaut re-writing our experience of cinema narratives. Still wonderfully watchable: this very personal and very alive landmark film. Alan Price
NOW OUT ON BLURAY