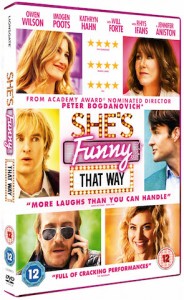 Director: Peter Bogdanovich
Cast: Jennifer Aniston, Imogen Poots, Owen Wilson, Quentin Tarantino, Kathryn Hahn, Rhys Ifans, Tatum O'Neal
93min   US   Comedy
Peter Bogdanovich made his long-awaited return at Venice 2014 with this blast of humour that feels quaintly dated but welcome nonetheless amongst an array of, frankly, second-rate festival dramas. Co-scripted with his ex-wife Louise Stratten in her screenwriting debut, it has a solid comedy cast of Owen Wilson, Jennifer Aniston and Imogen Poots. Not to mention Rhys Ifans.
Although set in a contempo Manhattan, this has the classic feel of a Woody Allen film from the early eighties and it also shares the rich, honeyed visuals of the era. The narrative, too, feels dated; locked in a bygone era of the casting couch, which is the thrust of its central duo, played by Imogen Poots – as spunky wannabe actress cum call girl Izzy –  who finds herself involved with a married film director, Arnold Albertson (a reticent Owen Wilson), after entertaining him in her bedside manner the night before she gives him an audition for a play. So smitten is he (and so wealthy), in his plausible, but gentlemanly midlife crisis, that he offers to take her off "the streets".
It just so happens that Izzy has another andropausal admirer in the shape of Judge Predergast (Austin Pendleton) who shares the same shrink, Jane Claremont (a fabulous Jennifer Aniston) whose own lover (Will Forte) is the playwright of the piece that Izzy's trying for. The delightfully dotty Kathryn Hahn plays Arnold's wife who's keen on Seth (Rhys Ifans), the main star of this play in question. As so the twisty tale goes on with a few too many plotholes to mention, but a few laughs too on the way.
This is old-fashioned but good-value entertainment, as long as you don't take it too seriously – there's even a cameo appearance from Bogdanovitch himself. Aniston and Poots act their socks off to great effect and the support performances are more than decent. SHE'S FUNNY THAT WAY is pleasant, light-hearted comedy. And for a simple night out, it does certainly does the trick. MT
REVIEWED AT VENICE 2015 LA BIENNALE 71 EDITION | ON DVD FROM 10th AUGUST