Dir.: Lynn Roth; Cast: August Maturo, Ken Duken, Ayelet Zurer, Victoria Stefanovsky, Victor Denes; USA 2019,93 min.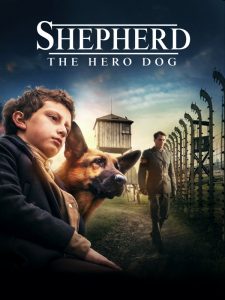 Filtering the darkest, most dramatic period of modern Jewish history through the instinctive gaze of a dog was an ambitious idea for the best selling Israeli author Asher Kravitz. So Lynn Roth's efforts to accommodate a young audience in her screen version are laudable but the upshot often cringeworthy.
In 1930s Berlin the Schoenmann family are excited by the arrival of a litter of German shepherd puppies. The kids Joshua (Maturo) and Rachel (Stefanovszky) want to keep the dogs but their mother Shoshona (Zurer) has her hands full, and the recent Nuremberg Laws mean the Schoenmanns must say goodbye to even Joshua's favourite Caleb, who is collected by his new owner. Kaleb will later abscond and find his way to the family flat of but by now even they have been evicted.
But Caleb is the lucky one and finds a home with SS officer Ralph (Duken), who becomes really attached to the dog, training him to attack Jews. Joshua and Kaleb meet again in a concentration camp where Kaleb recognises his former owner, and helps him and other prisoners to escape. After some adventures, dog and boy are send by partisans on their way to the British protectorate Palestine.
DoP Gabor Szabo uses Budapest as a stunning background to this canine wartime drama, but some concentration scenes are naturally grim, Joshua the only child among male adults. Caleb's dreaming sequence involving the Schoenmanns and then Ralph, is another questionable device. And the filmmakers should have known that SS uniforms were black, not green or grey. Overall, perhaps romanticising and simplifying would have helped the course, whatever the target audience. Maturo is convincing as a plucky survivor, and Stefanovsky, makes a wonderful mother; the only member of the family who sees the Shoah coming. Over fifty thousands dogs served during the Second World War, and for them it is a worthwhile tribute. AS
ON DIGITAL HD FROM JUNE 29 2020