Dir.: Usup Razykow; Cast: Maria Semenova, Elenena Korobynikova, Helga, Filipova, Seseg Hapsasova; Russia 2012; 90 min.
Best known for his 2000 drama Women Kingdom, writer and director Yusup Razykov is a leading light in the New Uzbek Cinema movement.
His latest outing SHAME, opens with the unexplained abduction of a young woman. A symbolic introduction to a very grim film set in the Arctic Circle of Russia, Ekaterina Mavromatis screenplay sensitively depicts this study of 'waiting women'  inspired by  the case of the submarine "Kursk", which was lost with all men in 2000. The main protagonists are the soon-to-be widows of the garrison hamlet, who are lied to by the authorities, even though the tragedy is apparent to them. Lena (Maria Semenova), is newly married to an officer of the submarine. Cold and distant, she drinks and has a one-night-stand, whilst the other women mourn; one even kills herself and her two children.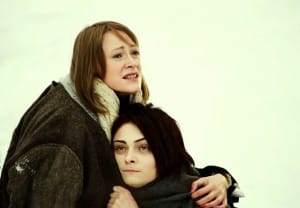 It slowly emerges that Lena has discovered passionate love letters from her husband to his former girl friend Irina, who is now in an ramshackle psychiatric hospital, after having set fire to a building, not able to take the six monthly darkness any longer. Lena saves her from the horror of this place, and promises her to take her into a clinic in St. Petersburg, her home town. The snowy landscape (more grey than white) and the downtrodden buildings, falling apart before our very eyes, the total lack of amenities and the darkness are the domineering elements of this film, the camera looks for humans, but only shows desolation. One has the feeling, that this place is a war zone and it only seems reasonable, that one woman says "that we need a war, because we do not know how to live without it". SHAME is ruthless in its negative approach, never resorting to sentimentality. A stark reminder of a not so modern Russia, which is still ruled for and by a small minority, whilst the majority lives in places rotting quietly away. Andre  Simonoviescz
[youtube id="JJ_tpWwOKpA" width="600″ height="350″]
SHAME IS SCREENING DURING THE 7TH RUSSIAN FILM FESTIVAL IN LONDON FROM 7-17 NOVEMBER 2013