Dir: Billy Wilder | Cast: Eric von Stroheim, Franchot Tone, Anne Baxter, Akim Timaroff, Peter van Eyck, Fortunio Bonanova | US War thriller 96′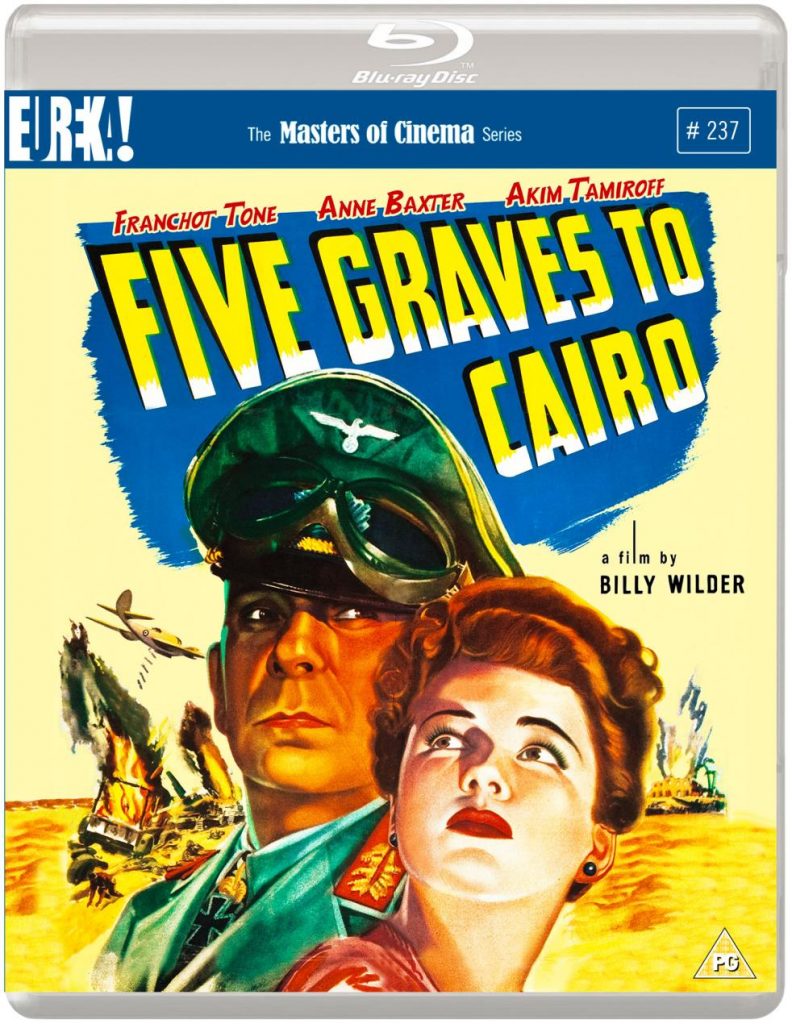 Before he made one of the most lauded film noirs ever committed to celluloid Double Indemnity Billy Wilder directed this gutsy Second World War espionage thriller that froths with energy despite its rather stagey confines of a chamber-piece. He had only been in Hollywood for a decade but Five Graves proves that Wilder and screenwriter Charles Brackett—who would collaborate on thirteen films, winning screenplay Oscars for The Lost Weekend and Sunset Boulevard—were already at the top of their game having cut their teeth together on a star-studded comedy The Major and the Minor with Ray Milland and Ginger Rogers, the previous year.
Enjoying an equally strong cast of Franchot Tone, Anne Baxter and Eric von Stroheim (who gets some of the best lines, including the fiendishly misogynist: "I don't like women in the morning, go away") the thriller is based on a play by Hungarian writer Lajos Biro, and retains a slightly claustrophobic feel despite the stylish camerawork of Oscar nominee John F Seitz who creates evocative shadow-play within the confines of the hostelry and inthe wonderful opening desert scenes (filmed in Arizona) recalling those velvety sand dunes in Laurence of Arabia. 
The plot is an engaging one. Tone is British Corporal Bramble, the only survivor in his unit after a battle with Rommel's soldiers in North Africa. After falling from his tank and staggering to the isolated Empress of Britain hotel, he is offered sanctuary by owner Farid (Akim Tamiroff) and his French employee Mouche (Anne Baxter). But Eric von Stroheim's Rommel soon fetches up crunching on a cigar and shooting the cuffs of his elegant desert rig-out (designed by Edith Head who really goes to town on the costumes). He soon commandeers the hotel in an extraordinary performance and claims it as the new quarters for his Nazi sidekicks. Meanwhile Bramble is back-footedly forced to assume the identity of a recently killed waiter. It soon emerges that this waiter was also serving as a German spy, a role Bramble now has to adopt for his own survival. And while Mouche knows Bramble's true identity, she has her own reasons for not wanting to aid and abet him as they survive in close quarters in this nest of wartime vipers.
Named by Quentin Tarantino as one of his favourite films, Wilder enriches the minimal action scenes with archive war footage and explanatory inter-titles. The interior scenes dice between light-hearted wittiness and sinuous tension as the disparate group of characters are huddled up hiding their own secrets and ulterior motives. The director would soon become one of Hollywood's most lauded talents, but his genius was clearly evident in this early work.
Masters of Cinema Series is proud to present the film in its UK debut on Blu-ray from a new 4K restoration