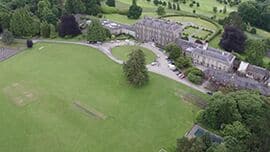 Dirs: Neasa Ní Chianáin/David Rane | Writer: Etienne Essery | With John/Amanda | Doc | Irish | 99′
In a Georgian mansion in rural Ireland maverick educators John and Amanda have devoted their married life to bringing out the best in their pupils, along with their foppish Head Master Dermot Dix. And if you had young children, you'd send them to the idyllic prep school at Headfort House near Kells in County Meath. In this entertainingly footloose documentary we spend a year with the kids and staff and their wonderful approach to learning.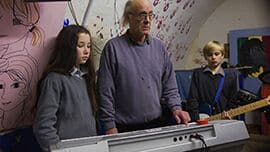 The directors' narrative is as unstructured as the couple's teaching methods. John and Amanda are as tender towards their charges as they are to each other. But discipline is also firmly in place and respect is the watchword; and it flows both ways. John is the Latin Master but he also teaches the liberal arts, music and painting. English Mistress Amanda, is responsible for drama – and there is a lot of fun. John and Amanda are often seen sharing a fag as they chat through their day in their cottage on the grounds, giving each other tips and encouragement – clearly the pupils are also their 'children' and they know just how to bring out the best in them. But they are dedicated to their life's work and have also to consider what would happen when they eventually retire: "What would we do all day, if we didn't come here?". When little Florrie, a troubled but talented kid, appears on the scene from London, she is a brilliant drummer in the school's rock band but lacks discipline. John deftly handles her tears and tantrums without batting an eyelid and the children all call him 'Sir', as a mark of respect – without a shred of resentment, or ever questioning his authority, in public or in the cosy dorms.
At the end of term, there is success for two children with places at Eton and Harrow, and John gently mimics the posh accents the boys may encounter once installed. At the same time, young Ted's dyslexia has improved in this caring environment and there are prizes – and hugs – all round. A tender and touching portrait of what a school should be. MT
OUT ON 13 OCTOBER 2017