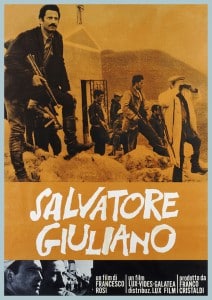 Dir.: Francesco Rosi; Cast: Frank Wolff, Salvo Randone, Frederico Zard;
Italy 1962, 123 min.
When the body of the bandit Salvatore Giuliano is found in the Sicilian market town of Castelvetrano (1950) we expect some sort of de-mystification of this legendary figure – a sort of CV with full explanation. But this vivid political masterpiece just offers the bare facts; the action is carried by his friends and enemies, the people of Sicily. In Rosi's enigmatic treatment Giuliano is just a peripheral figure who appears fleetingly and, for the most part, in disguise.  The Mafia, the Police and the Military all had a vital interest in Giuliano's death – as they had in his murderous career.
After killing a policeman in the late 1930s, Giuliano is forced to flee into the mountains where he lives mainly from organised kidnappings and well executed robberies. After the Allies land in 1943, he supports their campaign and when the war is over, Giuliano supports the Sicialian independence movements of EVIS and MIS despite their low profile in the elections in 1946. The Mafia and local landowners recruited Salvatore to discourage the Popular Front from realising the land reforms they planned. At the Farmers' May Day meeting of 1947, Giuliano and his men fired into the crowd at Portella della Ginestra, killing eleven, among them women and children. A year later, Salvatore "organised" the election against the Popular Front in Sicily, helping to "return" a two-thirds victory for Christian Democrats and their followers. Afterwards he returned to his usual business of kidnapping and robbery. But he was becoming an embarrassment for the Police and the military, which send 2000 men into the mountains to capture him – in vain. Finally the Police convinced Gaspare Pisciotta, a close ally of Salvatore, to kill him – in return for a pardon Pisciotta never got. He was poisoned 1954 while in jail, having threatened, like Giuliano before him, to reveal the men really responsible for the massacre of Portella della Ginestra.
Unlike Viscont's colourful Il Gattopardo, which dealt with the Sicilian question at the time of Garibaldi's unification campaign and produced around the same time as SALVATORE GIULIANO, this is a dark affair of conspiracies, murder and betrayal. Shot in grainy black and white by Gianni De Venanzo (who at the beginning of the 60s was DOP for Antonioni's trilogy of bourgeois alienation), the factions who direct Giuliano and profit from him are shown as the main protagonists of the tragedy of this rather simple man, who was killed by the very forces he served so well. Therefore, Rosi's decision to show him as a shadowy figure is the basis of his form of neo-realism. Rosi had worked with Antonioni and Visconti before and developed his own narrative style, away from the central characters of earlier films, who dominated the action, whilst Rosi developed a style away from the idealisation or vilification of characters, in favour of showing the role of protagonists acting for violent interest groups like the Police, the Military or the Mafia, who cooperate to subvert any form of democracy not only in Sicily, but in the whole of Italy. A year later, Rosi would surpass himself with Hands over the City. AS
OUT ON GENERAL RELEASE IN SELECTED CINEMAS FROM 26 September 2014