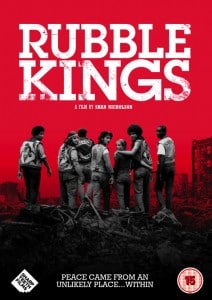 Director: Shan Nicholson
70min | Documentary | US
Black Assassins, Savage Skulls, Harlem Turks, the Assassinator – these were just a few of the street gangs or "Warriors" that roamed the South Bronx in the late sixties and seventies, and through their stories, Shan Nicholson's documentary creates a volatile and vibrant picture of a most violent time.
Using clips from Walter Hill's action thriller Warriors as a touchstone and interviews with former gang members, this fast moving and vivid account, narrated by John Leguizamo, plunges us deep into the troubled holocaust that was New York City during a time where Martin Luther King Jr, Robert Kennedy were assassinated.
But not all the gangs focused on violence: The Puerto Rican Ghetto Brothers, whose 2500 members trained in the martial arts, were notable for their attempts to organise a peace summit that was sadly scuppered by the murder of one of their leaders. Later the gang turned to music, producing a Latin funk band known for its 1971 album and more recent CD. Another gang member,Afrika Bambaataa (Young Spades) went on to set up the well-respected hip hop influenced Universal Zulu Nation. It emerges these all male gangs were also deeply hierarchical with brutal initiation ceremonies – and this is by no means a working class phenomenon. Just look at the rigid corporate structure in City institutions that starts during boarding school.
Nicholson also touches upon the disastrous Cross Bronx Expressway that divided urban communities and the New York City financial crisis that caused the phenomenon of "white flight". But there is hardly mention of drug-related criminality despite interviews with former mayor Ed Koch. An absorbing insight but not an exhaustive one – RUBBLE KINGS only skims the surface of its subject matter, but stimulates interest to discover more.. MT
NOW OUT ON DVD from 8 FEBRUARY 2016