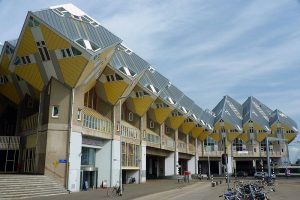 Rotterdam is one of the largest shipping ports in Europe and forms part of the prosperous oil-trading triangle known as ARA, along with Amsterdam and Antwerp. Rotterdam is the cradle of Modernism from the 1930s onwards and although it was almost completely destroyed during the Second World War (apart from the iconic Sonneveld House Museum which still remains, built in the Nieuwe Bouwen style). The vibrant Dutch city takes pride in its Avant garde and Art Nouveau architecture and buildings such as the Cube House (left), Kunsthal Museum and the Erasmusbrug Bridge (below) making it a magnet for design lovers – and cineastes alike.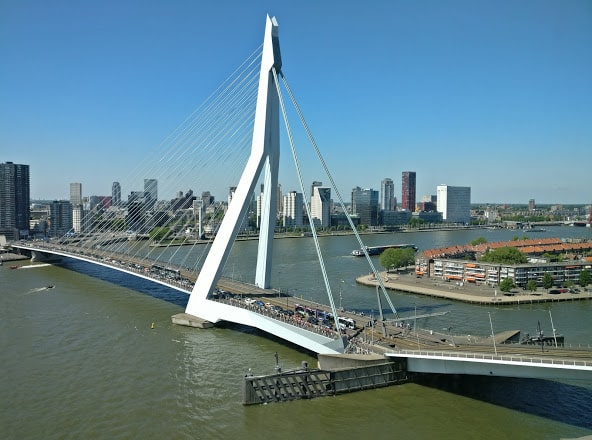 This year's Rotterdam Film Festival takes place from 23 January until the 3rd February with the latest World premieres running alongside 4 sections entitled Bright Future, Voices, Deep Focus and Perspectives – and a cutting-edge arts programme to add a cultural dimension to the 10 days, and this year includes SLEEPCINEMAHOTEL a one off project by Apichatpong Weerasethakul, and never before seen outtakes from Sergei Parajanov's masterpiece The Colour of Pomegranates (196
The 2019 jury comprises Chilean filmmaker and artist Alfredo Jaar; Daniela Michel, festival director of Morelia Film Festival; Katriel Schory, former director of the Israel Film Fund; Pimpaka Towira, Thai filmmaker/producer and programme director of Singapore Film Festival; and Italian filmmaker Susanna Nicchiarelli. The festival's Big Screen Competition awards a prize of €30,000 to its winning director whose film will be guaranteed a theatrical release in the Netherlands, as be broadcast on the Dutch public TV network NPO.
Sacha Polak's Dirty God will open the festival.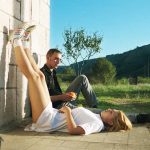 T  I G E R   C O M P E T I T I O N
Sons Of Denmark, Ulaa Salim, 2019, Denmark, world premiere
No coração do mundo, Gabriel Martins Alves/Maurílio Martins, 2019, Brazil, world premiere
Take Me Somewhere Nice, Ena Sendijarević, 2019, Netherlands/Bosnia and Herzegovina, world premiere (left)
Present.Perfect., Shengze Zhu, 2019, USA/Hong Kong, world premiere
Sheena667, Grigory Dobrygin, 2019, Russia, world premiere
Nona. If They Soak Me, I'll Burn Them, Camila José Donoso, 2019, Chile/Brazil/France/South Korea, world premiere
Koko-di Koko-da, Johannes Nyholm, 2018, Sweden/Denmark, international premiere
Els dies que vindran, Carlos Marqués-Marcet, 2019, Spain, world premiere
Bangla, Phaim Bhuiyan, 2019, Italy, world premiere
The Best of Dorien B., Anke Blondé, 2019, Belgium, world premiere
God of the Piano, Itay Tal, 2019, Israel, world premiere
Hail Satan?, Penny Lane, 2018, USA, international premiere
Joel, Carlos Sorín, 2018, Argentina, European premiere
Queen of Hearts, May el-Toukhy, 2019, Denmark, European premiere
Transnistra, Anna Eborn, 2018, Sweden, world premiere
X&Y, Anna Odell, 2018, Sweden/Denmark, international premiere
ROTTERDAM FILM FESTIVAL | 23 JANUARY – 3 FEBRUARY 2019