Dir.: Jack Clayton; Cast: Simone Signoret, Laurence Harvey, Heather Sears, Ambrose Phillipotts, Donald Wolfit, Allan Cuthbertson; UK 1959, 115. Min.
Jack Clayton (1927-1995) is one of the most underrated of British directors. He made his mark with only seven features – and it could have done more had some of his projects not been abandoned by circumstances beyond his control. We are left with the Henry James adaption of The Innocents, the equally eerie Our Mother's House,  The Pumpkin Eater (scripted by Pinter) and Room at the Top, his debut film. 
Based on the novel by John Braine and adapted by Neil Peterson, Room at the Top won two Oscars: Simone Signoret for Best Actress (as she did in Cannes,) and Peterson – Best Adaption. Clayton was known as a middle-of-the-road director (and his name was not Tony Richardson or Karel Reisz), so he did not get the credit for the first "Kitchen Sink Drama" in British film history.
Joe Lampton (Harvey) a young man from a working-class back ground is determined to make it big. Working in the treasury department at Warnley, near Bradford in Yorkshire, he meets Susan Brown (Sears), the daughter of the local industrialist (a terrific Wolfit) and makes his mind up to marry her. But Susan's parents send her abroad to avoid the bumptious social climber, and Lampton falls in love with Alice Aisgill (Signoret) whose husband George (Cuthbertson) treats her like a possession. When Susan returns Joe switches his attentions back to her, but after they consummate their relationship Joe swears eternal love to Alice. Furious, her husband threatens to ruin their life and when Susan gets pregnant Joe marries her. Alice is distraught and has a fatal car accident after getting drunk, and Joe is beaten up by a gang after making a pass at one of the girls. But he recovers in time to marry Susan, the girl of his dreams but not the love of his life.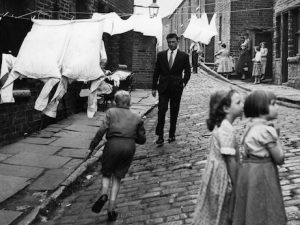 Room at the Top is full of the subtle inequalities of English provincial life and the film's success at the box office was based on the premise that sex (even in the afternoon!) could be enjoyed in an industrial northern town, by mature adults. The locations were exactly right, and the display of sexual frankness was an eye-opener.
Born in Lithuania and bred in Sough Africa, Harvey was already a small star but this role as a glib social climber catapulted him to fame. But it was Simone Signoret who carried the feature, her smouldering sexuality was a first for British cinema. The great Freddie Francis photographed Bradford luminously as a post-war ruin, just before re-generation arrived. 
Jack Clayton's unrealised projects include the Edna O'Brien adaption Sweet Autumns, John Le Carre's The Looking Glass War, The Tenant, later directed by Polanski, and an early version of The Bourne Identity (1983). He never got the tributes his realised films deserved, and he withdrew into virtual silence. AS
NOW ON BFI PLAYER | SUBSCRIPTION | Also available to own in a BFI Dual Format Edition (Blu-ray & DVD) packaged with numerous extras including a new feature commentary and a selection of archive films of West Riding, Yorkshire, where the film is set.