Dir: Oliver Murray | Doc with:
The sheer exhilaration of live music is one of life's pleasures. And Oliver Murray conjurs up the vibrant spirit of Jazz in this documentary tribute to a man who was always "gracious, inviting and free to share his ideas with everybody" in the words of American record producer Quincy Jones. This is the story of Ronnie Scott's Jazz Club. Soho's storied jazz club in London.
Ronnie Scott (1927-1996) was an English jazz tenor saxophonist who played alongside some of the most famous figures in the world of Jazz in a small basement location in London's Frith Street in the heart of Soho.
Once described as a "very nice bunch of guys", Ronnie was all things to all people, everyone describing a different side of his charismatic personality. And Murray saves the darker side for the final chapter of this layered biopic. Scott grew up in a working class Jewish family in the East End of London where he trained on the saxophone just like his father before him, founding his iconic jazz club in 1959 and unintentionally creating a den of cool and a meeting place for luminaries of the jazz world and their aficionados.
Still going after 60 years, Ronnie Scotts is now a household name, inextricably linked to the word Jazz, the current manager (and talking head) Simon Cooke has been keeping the place going for the past 25 years. Owned by theatre impresario Sally Greene and the entrepreneur Michael Watt since 2005
Fascinating archive footage forms the background to a later interview with Ronnie – taking us through the history of his East and West End childhood and early adulthood in the 1940s where he became a dance-band saxophonist (like his father) and then falling in love with Bebop and learning his Jazz style on board oceans liners bound for New York. Here he discovered Charlie Parker and Dizzy Gillespie and eventually, sailing back to London, he dreamed up the idea of his own jazz club – he would be the star-power – starting the evening in compare mode with a series of dry jokes – his fellow musician Pete King was the business brain. The idea came together with the aspiration to provide keen musicians with the first ever place to perform in Gerrard Street (just round the corner), although Americans were forbidden by the Musician's Union to play in English venues. This made the financing complicated because only the Americans bought in the money. This led to a long-standing feud with the UK musician's union.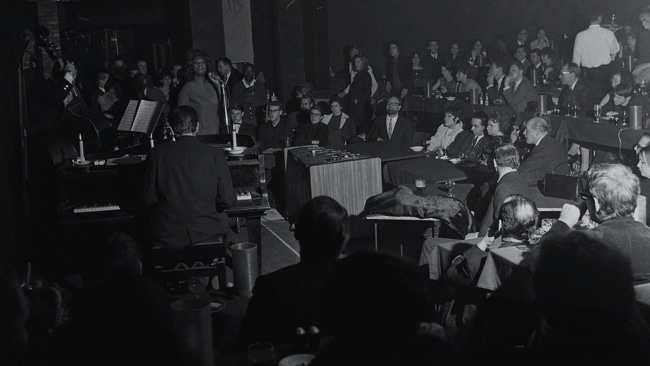 Five bob (UK shillings) was the charge for the Saturday 'all-nighter" and there was generous hospitality shown to regulars and those who worked there. Later the club moved to bigger premises at 47 Frith Street and welcomed the likes of Sonny Rollins, Dizzie Gillespie, Ella Fitzgerald, Roland Kirk, Miles Davis, Nina Simone, Oscar Peterson, Buddy Rich, Thelonious Monk, Chet Baker and Sarah Vaughan, and even Van Morrison all of whom perform in the clips that Murray interweaves into this lively biopic.
Scott was the frontman while macho straight-talker King took care of the business. Their close relationship was likened to a marriage, by King's wife Stella, who describes Ronnie as a complicated man who, unknown to friends and fellow musicians, suffered from low moods that he shook off by playing his music. And bankruptcy was often round the corner, Ronnie recalling the bailiffs being on site one time even pricing up the piano while the show went on. Ronnie often gambled away the takings but he was also the life and soul of a place fondly remembered here by those who enjoyed it over the years amongst them Mel Brooks, music journalist John Fordham, Ronnie's daughter Rebecca, and his various wives and partners Mary Scott, Francoise Venet, and others who help flesh out the complicated artist he was.
But the unique feel of the place and Ronnie's soulful charisma dominant this jubilant often deeply poignant biopic about a man with a vision, and a club that still attracts crowds as never before and will hopefully carry on. MT
ON QUALITY PLATFORMS