Dir: Margy Kinmonth. With the voices of Daisy Bevan, Tom Hollander, Sean Cronin, Matthew Macfadyen, Eleanor Tomlinson | Documentary | UK | 85min
Bafta-nomimnated documentarian Margy Kinmonth (Hermitage Revealed) provides a whistlestop tour of Russian Avant-garde art  in ths informative and engrossing exhibition on screen – REVOLUTION: NEW ART FOR A NEW WORLD.
Politically, the turn of the 20th century was a pivotal time, but also creatively things would never be the same again as Russia's young and thrusting artists provided their own revolutionary counterpoint to Lenin's political agenda. An astute artist in her own right, Kinmonth engages with Andrei Konchalovsky and other descendants of the legendary artists to create a brilliant documentary that combines impressive photographs and archive footage with filmed imaginings (with a sterling British cast) of the radical climate that flooded through Russia a hundred years ago, when inventiveness broke free, flourished and even drove the nation forward in those formative decades, and still exerts a powerful influence on the contemporary art world of today.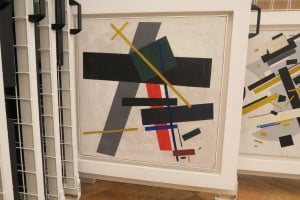 For those interested in art or political history this is a fascinating piece of filmmaking. Kinmonth is clearly well-connected as she tours the State Tretyakov Gallery, the State Russian Museum and the State Hermitage Museum to show works by Chagall, Pimenov, Rodchenko, Kandinsky and Malevich and to interview leading art world luminaries among whom are Mikhail Piotrovsky and Zelfira Tregulova and the grandson of the architect Shukhov, whose free-standing Shabolovka Tower structure in Moscow provided radio broadcasting throughout the region during the early 1920s.
Despite the often tragic deaths of the artists in Gulags during Bolshevik purges of the 1930s, the revolutionaries had pushed the word out from Moscow and St Petersburg with the aid of 'art trains' that promoted their work and ideals  with lectures, agitational propaganda and posters.
Kinmonth deftly weaves her linear narrative through the various Avant-Garde movements of Suprematism, Futurism and Constructivism to Socialist Realism to show how these influential artworks and even ceramics live on to tell their story even after the heyday of the movement with Kazimir Malevich's famous Black Square Suprematist painting (1915) now valued at many millions of USD. MT
REVOLUTION: NEW ART FOR A NEW WORLD will be broadcast in the BBC's upcoming Russian Revolution Season and will air on Monday 6th November 9pm on BBC4
REVOLUTION: NEW ART FOR A NEW WORLD will be released on DVD 3rd April 2017