Wri/Dir: Coralie Fargeat | France, Thriller 106′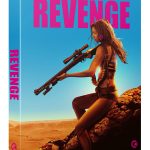 Dirty weekends don't come any dirtier than the one in this ferocious indie revenge thriller that has ravishing locations, a twisty storyline, and a female lead who is not just a pretty face.
Revenge is the impressive debut from French filmmaker Coralie Fargeat. This is a movie that will resonate with women everywhere with its feminist humour, from the dreaded chipped nail polish to the unwelcome male attention, especially the unwanted male attention. Bathed in garish technicolor and pulsed forward by a pounding electronic soundscape, Revenge snakes its way through the Moroccan desert where its heroine, the cheeky bummed hottie Jen, fetches up with her smugly married lover Richard (Kevin Janssens) for a sexy sun-drenched ménage à deux. But this French woman (Mathilde Lutz) is not just gorgeous, she is also extremely cute. And although she can play the seductive siren at will, she can also be as tough as old boots. And when two of Richard's friends suddenly appear on the scene, their company is distinctly 'de trop'.
Revenge is a playful film that teeters on the brink of fantasy: combining surreal Grande Guignol with down to earth horror in a gore fest so stylishly achieved it actually becomes vital to the plot line in the incendiary finale laced with spurts of subversive humour, along the lines of I Spit on Your Grave. Jen is seen rocking raunchy tops and a seductive smile that makes up for her monosyllabic part, she is just there to perform on the shag carpet which is perfect for soaking up the bloodshed that will follow.
Meanwhile the misogynist love rat Richard makes disingenuous phone calls to his wife back in France, discussing the canapés for a forthcoming event, and pretending he's there just to enjoy some downtime with pals Stan (Vincent Colombe) and Dimitri (Guillaume Bouchede), who are later seen leering at Jen through the enormous windows of the glamorous modern villa.
Fargeat makes brilliant use of the local flora and fauna echoing the over the top, tongue in cheek decadence of it all: insects crawl over a rotten apple core, as Dimitri urinates over a scorpion emerging from the sands. But it all turns nasty when Stan takes a shine to Jen and ignores her clear rejection of him. Just because Jen presents herself as a purring sex kitten it doesn't follow that these men can stroke her at their own volition. What comes next will set this cat amongst the pigeons in a prolonged showcase showdown that sweats out between the foursome in the dazzling desert heat. A woman behind the camera allows a licence for extremes, and Fargeat pushes her story to the limits in a thriller with appeal for every sexual persuasion. And the moral of the tale: if you have a secret lover, keep them strictly to yourself. MT
LIMITED ADDITION BLU-RAY FROM 11 MAY 2020
https://youtu.be/YTJrztVvmx0