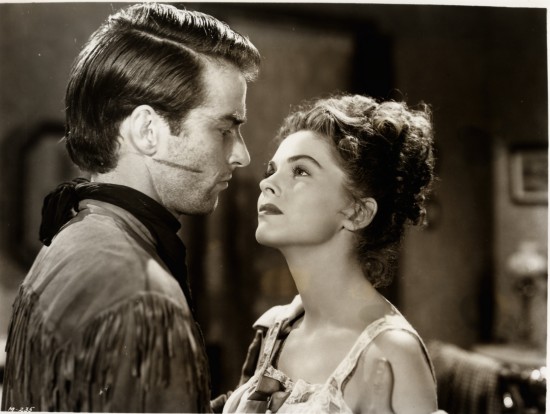 Director: Howard Hawks, Arthur Rosson
Script: Borden Chase, Charles Schnee
Cast: John Wayne, Montgomery Clift, Walter Brennan, Joanne Dru, John Ireland.
133mins  US Drama
Actually shot in 1946, Red River infact wasn't released for a couple of years and is notable for launching the career of Montgomery Clift. Hawks had a good eye for a star and, as a director overlooked for most of his career by the Motion Picture Academy but still managed to roll out hit after hit launching many a career including John Wayne and Carole Lombard.
To be fair, Howard Hawks IS Hollywood. His filmography is simply extraordinary, with a massive career, encompassing legendary titles such as Scarface, Bringing Up Baby, His Girl Friday, Gentlemen Prefer Blondes, Rio Bravo and El Dorado, Red River coming off the back of To Have And Have Not and The Big Sleep. I remain however, of the opinion that Red River is one of his more overrated films.
It's perhaps difficult to watch a proper Western these days without the sensibility of hindsight and the 21st Century. A man, shooting his way into Texas, decides huge swathes of the land are his regardless of any that went before; Native American or Mexican and puts down a ranch to brand his cattle. And anyone elses.
For me, it's not even hard to side with the 'Indian'. But that isn't the issue here. Red River is one of those standout Westerns held up as an example and certainly it is epic in scale. The cattle push centre piece across the wide open spaces of the Wild West are really impressive, driven on by a massive score by Dimitri Tiomkin and Hawks is never more surefooted than when commanding expansive shots of cowboys atop horses against a thousand head of cattle, with dust, mountains and a 'Simpsons' clouded sky as backdrop.
But here is where the fairy-tale ends. The characters are infact mere caricatures and the dialogue clunky. All the action is telegraphed and the ending, the final betrayal. It's a story that promises a great deal, but whimpers at the finish which is tonally greatly out of keeping with the rest of the film.
It's never worse than the two major scenes with women, it's as if the writers were as uncomfortable writing for them as much as the director was to be around them; everyone much happier and relaxed when with a herd of beef…
So I'm left casting about a bit for the good in a film that is held up as 'something' and a great classic Western. It's pretty morally bankrupt 'how the west was won' and, of course, history is always written by the victor. Hard also not to reflect on American foreign policy, for that matter, but that's perhaps another conversation.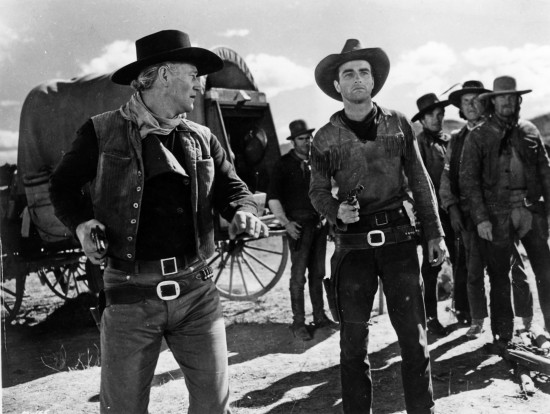 The interactions and comedy interludes are all contrived and unconvincing, the dialogue lumpy, even though it's all hung together on the bones of a promising storyline; one that originated from a Saturday Evening Post article dating around 1865, although it's anyone's guess as to what that original story may have been.
Wayne plays Dunston, a man on a wagon train across the West, eyeing up the land and deciding to stay put in Texas, as the train pushes on for California. He adopts a boy called Matthew, played by Clift, and brings him up as his own on a very successful beef ranch.
Wayne does as Wayne does, wading through the film with his chin set, heading in one direction, come what may. Clift weaves a softer, more eloquent path and in the main they're watchable enough, but by no means exceptional. This one ends up as some fairly frustrating hokum wrapped up as something good and eventually simply running long at two and a quarter hours. You're there more for curiosity's sake than entertainment. AT
RED RIVER IS SCREENING AT THE MONTGOMERY CLIFT RETROSPECTIVE AT THE BFI, SOUTHBANK, LONDON DURING FEBRUARY 2013