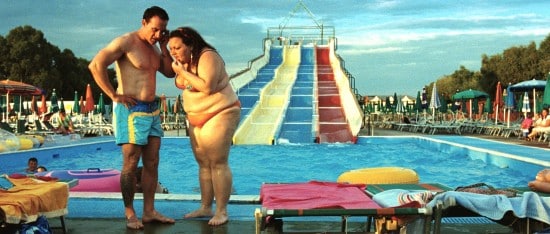 Director: Matteo Garrone
Cast: Aniello Arena, Paola Minaccioni, Loredana Simioli, Nando Paone.
Roman director, Matteo Garrone's latest provides a rich contrast to his last outing, Gomorrah, in a similar way as pecorino does for pears.  After the acerbic and steely-lensed Gomorrah, Reality is a garishly-stylised, hard-edged fairytale comedy which muses on the relative merits of fame X-Factor-style in an upwardly-thrusting consumer-orientated, low-rent Napolitan backwater.
Reality taps into the Italian psyche: to the Italians how you look is imperative: and they literally wear their wealth on their backs.  No self-respecting man or women ever appears shabby or unfashionable; even the dustbin men look a million dollars. They spend more on labels and luxury goods than possibly any other European nation. 'Fare bella figura' literally means 'putting your best out there'.
And so it's easy to understand how a poor wheeler dealer and fishmonger (Aniello Arena, who's currently serving a prison sentence for Mafia-related crimes.) could be persuaded by his aquisitive wife and kids to go for Big Brother (Grandi Fratelli) to achieve this aim.
The seemy side of life in Naples may be dilapidated and down at heel but it's authentic and real and Garrone contrast this with the phoney world of reality TV.  Aniello Arena is in a class of his own in his portrayal of a man who becomes increasingly self-delusional and obsessive in his efforts to seek celebrity-status and leave his hard-grafting past behind him in his search for a happy ending. Be careful what you wish for. MT