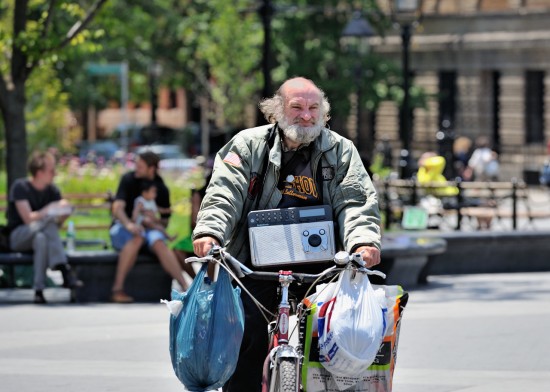 Director:  Mary Kerr
Cast:                    Radioman
Documentary  USA    ***   75mins
Four years in the making, this documentary was first conceived by producer Paul Fischer, who came across the legend that is Radioman whilst working a film set in New York. Bringing in his film school partner Mary to film it, they spent quite some time getting to know the man.  In interview, they describe the job as interesting, easy and difficult in equal measure.  Radioman was, it turned out, very interested in talking about the famous people he knew and had worked with, but proved less than willing to open up about his own past.
The film makes almost direct reference to the point that he is the spitting image of a character that could be played by Robin Williams; a man who, whilst homeless in the Eighties, stumbled across Bruce Willis on the set of Bonfire Of The Vanities and became forever hooked on film sets and actors. The ensuing years have consisted in Radioman visiting every set in New York, getting to know the crew, meeting the stars and even getting himself involved as an extra in a few. Over 100 at the last count.  A great many stars were happy to be interviewed over Radioman, who has become something of a talisman in the industry. George Clooney, Matt Damon, Josh Brolin, Tom Hanks, Meryl Streep and Ron Howard, among many; none of whom were backward in coming forward about Radioman.
He's a true eccentric. A character who could so easily have slipped forgotten through the cracks in the sidewalk but now follows his own dream, working hard for what he has with a heart and an authenticity that isn't lost on those that constantly need to combat the tsunami of Hollywood fakery. Almost by mistake, Radioman becomes a great, alternative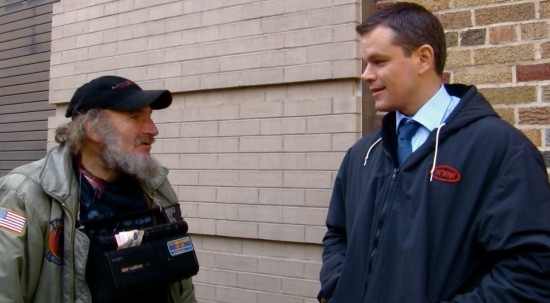 snapshot into a seldom-seen side of the biz. You can't help but warm to the man and wish him well.  As Radioman himself says: 'Just be yourself. Do what you have to do in life, pursue it as far as you possibly can, don't let anyone discourage you.' AT.