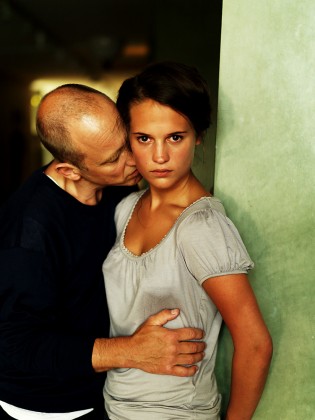 Director/Writer Lisa Langseth
Producer: Helen Ahlsson
Cast: Alicia Vikander, Samuel Froler, Isabella Alveborg, Josephine Bauer, Doris Funcke, Ylva Gallon, Elisabeth Goransson, Kim Lantz
Sweden  97mins 2009 Drama
On the strength of a short film Godkand, Langseth got to make this, her first feature film Pure, which has already garnered some success in Scandinavia. Not to be confused with the 2009 climbing video Pure, the Finnish 2002 Pure (Koukusa), or Gilles McKinnon's 2004 Pure, or indeed the titles of the same name from 2004 and 2005.
Langseth's mines a similar vein to Andrea Arnold's early work: Katarina, a working class girl with very little in terms of prospects, via Mozart, realises that there may be something more to life, if she can but loose those ties that bind.
Katarina is a troubled 20-year-old, already brushing society up the wrong way and having great difficulty finding some peace and a decent way to make a living; with mistakes she's made in her past refusing to leave her alone. Her mother is more a hindrance than a help but she does at least have the love of a good man.
Playing the troubled young Katarina, is a spirited, engaging and very likeable Alicia Vikander, who certainly has her moments, aided and abetted by a fine supporting cast, who are excellent throughout. However, the storyline in summation feels insubstantial, a little over simplistic and the resolution, although thoroughly earned by the plot, still stretches believability in any real terms.
The opportunity has done no harm at all for Vikander who, as well as doing another film with Langseth, has also landed a Hollywood role with Julianne Moore and I do hope she can go from strength to strength. It will be very interesting to see Langseth's next outing titled Hotell and see if she can make the step up from this promising, if somewhat light debut. AT