Dir: Alice Winocour | Wri: Alice Winocour, Jean-Stephane Bron | Cast: Eva Green, Lars Eidinger, Matt Dillon, Sandra Huller | Sci-fi Drama 107′
Proxima is Alice Winocour's most ambitious film to date and certainly her most unique and cinematic. It depicts the struggle of an ordinary mother (Green) who is an outstanding engineer and cosmonaut. Melding docudrama with a moving love story, Proxima is full of haunting images heightened by Ryuichi Sakamoto's ethereal score, all enveloped in a gripping storyline: Will a woman deeply attached to her young daughter make it into Space and back.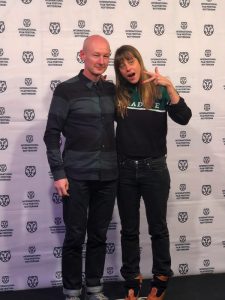 Green's female engineer Sarah is at the heart of Proxima. She is a luminous presence – fragile tough and strangely otherworldly. Given the opportunity to join the European Space Agency's Mars probe mission along with other seasoned spacemen – including Matt Dillon's macho but golden-hearted leader – she takes the plunge. What starts out as matter of fact preparation for the long term mission soon becomes a fraught and increasingly affecting exploration of what is means to love, to be a parent, to meet professional goals, and to thrive and appreciate our own planet. Proxima is a ground-breaking and beautiful film as much about our life here on Earth as is about this perilous journey into the unknown.
The Parisian-born part Russian director, who has Russian blood, avoids melodrama until the final remarkable scenes. And she doesn't stint on detail when describing the gruelling physical and emotional preparations for space travel. The final titles include a roll-call of famous cosmonaut mothers – because the crucial twist here is that Sarah must leave her daughter Stella (a determined Zelie Boulant) for six months to join the mission. Convincingly shot on location in the ESA facilities in Cologne and in Star City near Moscow, Winocour spent two years researching and writing the script (with regular Jean-Stephane Bron). It shows how motherhood can thwart ambition particular when along comes a small, needy child. And it cuts both ways – Sarah often being driven to tears of doubt and remorse rather than her toddler Stella – kids are tough! And this element gives the drama its rich emotional underbelly.
Green is convincing both as the highly driven scientist and the tender-hearted parent who may lose her life. Lars Eidinger is a lowkey but supportive presence as the astrophysicist dad. There is a subtle suspense at play throughout this remarkable journey and the moving love story at its core. MT
NOW AT UK PICTUREHOUSES| ROTTERDAM FILM FESTIVAL 2020 |