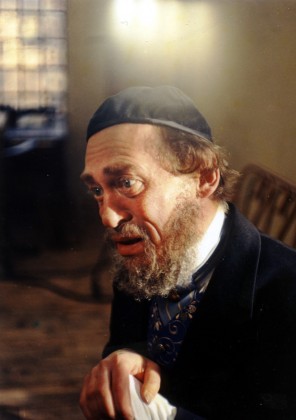 Director: Andrzej Wajda | Cast: Daniel Olbrychski, Wojciech Pszoniak, Andrzej Seweryn, Anna Nehrebecka, Tadeusz Bialoszcztnski, Bozena Dykiel, Franciszek Pieczka, Danuta Wodynska | Poland  160min
The Promised Land is Epic in every true sense of the word. It is a massive, sprawling, all-encompassing, vast film that rolls relentlessly onwards with all the energy of the industrial revolution that it portrays and yet never leaves behind the microscope on the wild, immense , tangled emotional landscape of the people that populate it. Wonderful.
Despite being made almost forty years ago, this astonishing work hasn't aged a day. Concerning Lodz's emerging textile industry at the turn of the century, three young friends, a Polish aristocrat, a German and a Jew plot to make their fortunes by building their own factory, whatever the cost.
And here, Wajda is in his element, displaying the insane wastage of wealth, built out of the rags and ruins of the destitute, forced to work as children in the hard, filthy, dangerous factories, to be inevitably plucked either by the wealthy or by the work.
As with all the best films created under a punitive regime, this is a work of allegory and symbolism all wrapped in a huge dollop of humour and laced with arsenic; there's no hiding the fact that this depiction of rampant capitalism actually alluded to the Communist politics of the time.
This is filmmaking at its peerless best. The concept, the execution, the cast, the design and the acting all conspire to create a masterwork in film. It's what we go to the cinema for. Wajda's vision and the mastery of his medium was there for all to see in his WWII trilogy, A Generation, Kanal and Ashes And Diamonds; three films worshipped and copied by a generation thereafter. Heaven only knows why this one didn't go on to win its nominated Best Foreign Film Oscar.
Andrzej Wajda survived the Second World War in Nazi-occupied Poland. In 1942, he joined the Resistance until the war ended in 1945. In 1946 he moved to Krakow where he attended the Academy of Fine Arts, before moving on to study film. His appreciation for life as well as art must indeed have been hard won.
The cast is enormous and some of the larger scenes have a host of extras that today's directors can only dream of. One of the many outstanding qualities ofThe Promised Land is the fully-rounded, flawed nature of all of the characters. Not many come out the other side as morally sound or principled and the steamroller charitably called 'progress' soon crushes those that do.
Tradition, honour, integrity, respect, faith, humanity and an honest living are all tokens thrown in to stoke the fire of greed, driving this story forward. Things being what they are now, it is  hard not to reflect how the story this film tells was never more apposite. A visionary film with its evergreen themes. MT
 KINOTEKA 2017 | 16 March 19.00 | CLOSE-UP CINEMA
[youtube id="0D1q-P9z7Lw" width="600″ height="350″]