Di: Vitaly Mansky | Music: Aleksey Aygi | Doc | Russia | 86′
This sepia cine-film diary follows Vitaly Mansky through his youth, offering both a biographical and collective memoir of the times. Born in 1963 in Lvov, (Ukraine) to an aristocratic mother and a politically-active intellectual father, he has since directed over thirty films, achieving critical acclaim on the international stage. From early sixties footage of his parent's 'rock n roll' party on the night of his conception to his early twenties, it offers a fascinating insight into life in Soviet Russia: a tightly-controlled environment where family happiness was considered the main attribute to aspire to in a society where marriage was 'the done thing' and couples were compensated with gifts from the State to encourage as many births as possible.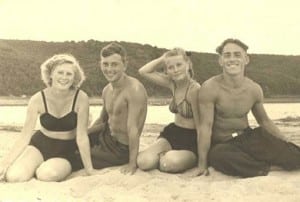 From early footage of Russian tanks rolling into Prague in 1967, to the 21st anniversary celebrations of the founding of the People's Republic of China in 1970, and the first Soviet astronauts preparing to conquer Space; Mansky's doc offers comprehensive insight into social and political life during the last knockings of Communism: and the two are inseparable. He describes the Soviet State as "frozen sputum on the upper lip, that cannot be removed without a soldering iron".
Sport was a way to prove Communist strength over the intellectual rigour of Capitalism. But although times were hard and winters unbearable (fur coats were inherited), Mansky remembers people dancing in the streets on the many Soviet public holidays, and the long hot Summers in his mother's dacha offered welcome contrast to freezing winters. There is even a macabre early memory of when he queued to buy a coffin on his beloved grandmother's death. His mother and her (numerous) boyfriends remain the one constant in his early life: sex education, first love, endless partying; an eventful cruise on the Volga and his early experiences with filmmaking also feature heavily, crammed into this compulsive and meaty biopic that requires intensive concentration to assimilate an immersive digest of over 5000 hours of film material and 20,000 stills.Well worth it though! MT