Dir/Wri:: David Gordon Green | Original: Hafsteinn Gunnar Sigurdsson | Cast: Paul Rudd, Emile Hirsch, Lance Le Gault, Joyce Payne | 94min  Comedy  US
David Gordon Green plunders the Icelandic comedy original Either Way (2011) for this deliciously quirky re-make of male bonding and reflective melancholy. It all kicks off when an unlikely couple of friends spend the summer of 1988 Texas repainting traffic lines on a Texan country highway ravaged by wildfire.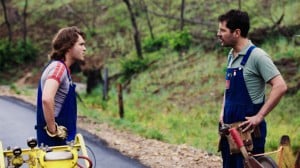 Ostensibly a recipe for disaster: Lance (Hirsch) is an insecure extrovert looking for casual weekend hook-ups and conversation, Alvin (Rudd) is shy and self-contained but, crucially, dating Lance's elder sister and is corresponding with her by letter, it being the eighties. A rich vein of comedy lies in their gradual falling out and re-grouping as they discover weird and wonderful things about themselves and about each other that creates a strange and appealing chemistry. Occasionally wandering into whimsey with the arrival of a local elderly woman who lost her home in the fire, and an old man who offers them a slug of the local hooch, the film maintains an offbeat feel true to Gordon Green's indie roots.
Tim Orr's cinematography focuses on the stunning natural environment picking out the local wildlife to stunning effect. An evocative original score from David Wingo and Explosion in the Sky (The Kite Runner) really captures the hazy, mood. MT
ON MUBI FROM 13 JUNE 2020 | Best Director Silver Bear Berlinale 2013