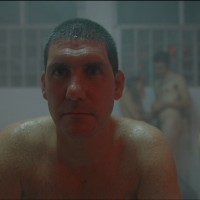 Director/Script: Carlos Reygadas
Cast: Adolfo Jimenez Castro, Nathalia Acevedo, Willebaldo Torres.
120min     Spanish with subtitles
After darkness, light
Carlos Reygadas' latest outing was greeted with boos and cheers at Cannes last year where it went on to win the feisty Mexican: Best Director.  An provocative film then, and very much an acquired taste.
The opening scenes of magnificent natural allure showcases the Mexican countryside and contrast with the unflinching originality of more experimental sequences and a slightly disorientating, fractured narrative.  The focus is Natalia and Juan, a couple with kids, who appear to be at the end of the line. Reygadas looks at their story from different perspectives and phases all interwoven with subplots and tonal contrasts through a vignetted, wide-angle lens. The effect is awesome but what's it all about? Reygadas leaves us to our own conclusions in a similar way that Bruno Dumont does with Hors Satan.  "The real proof of a film's quality is not what the ciritics say or how many prizes it wins, but what happens when you see it more than once." The more I think about this, the more it applies to all good films. MT