Director: Regis Roinsard
Script: Regis Roinsard, Daniel Presley
Producer: Alain Attal
Cast:  Romain Duris, Deborah Francois, Berenice Bejo, Shaun Benson, Melanie Bernier, Miou-Miou
Fr    111mins   2012   Romantic Comedy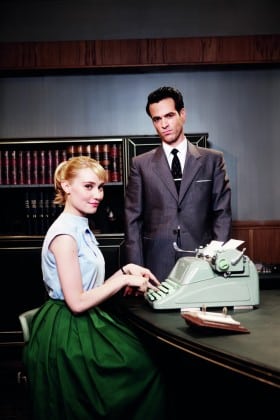 A feature debut from director Roinsard supplies another quintessentially-French kooky rom-com from Duris. Set in 1958 and beautifully designed by Silvie Olive, this is a warm, feel-good film about the travails of love never running smooth, with a light dusting of psychology to ensure it all makes sense.
Duris plays an Insurance boss with a heart, in need of a secretary. And a wife.
Into the frame steps the unpromising 'Rose Pamphyle', a village girl growing up in her fathers shop, but harbouring dreams of being a secretary and seeing the world. She proves a rubbish secretary, but a demon two-finger typist. Duris leaps on this talent seeing her as the tool through which he, as a truly competitive spirit, can win. Win what? Win the Fastest Typist Competition, of course.
But the star of the show and what makes it is Deborah Francois. She is beautiful, dissembling and feisty in equal measure and convincingly in love. Her journey from ingénue to woman of the world is an engaging one and Duris plays second fiddle to it.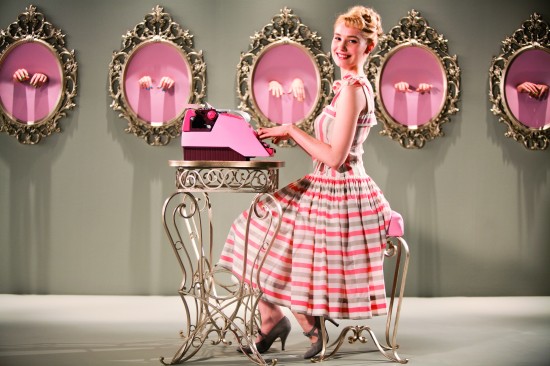 Fans of Duris will presumably not be disappointed. He models a smashing line in single- breasted suits and cuts a fine, slender Gallic figure sporting a Gauloise for the films entirety, but far less is asked of him than from the superior (2010) Heartbreaker and there is alot less comedy to boot.
I feel certain it hits all the right notes for the intended audience. The set design rejoices in the Fifties setting, the costumes, colours and hair-do's are all sumptuous and beautiful, but it is nevertheless a case of style over content, running a little long at almost two hours.
There's something missing in the box ticking that went into the creation of this film, which is So 'There' in Heartbreaker and The Beat My Heart Skipped.  It's not that this is a bad one, it's that we've come to expect 'exceptional' from Duris and this one isn't. AT
POPULAIRE IS ON GENERAL RELEASE FROM FRIDAY MAY 31ST IN CINEMAS ACROSS LONDON.  READ OUR INTERVIEW WITH STAR ROMAIN DURIS