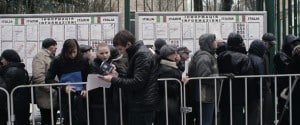 Ukrainian director Myroslav Slaboshpitskiy returned to Locarno Film Festival again in 2014 as a jury member overseeing its Pardo di domani competition, having won a Silver Leopard there in 2012 with mid-lengther NUCLEAR WASTE.
After success at Cannes and Locarno in 2014, Slaboshpitskiy's impressive debut feature THE TRIBE is now on release in London. Daringly deadpan and at times bedazzlingly brutal, the film takes place at a boarding school for deaf mute children, where a new arrival is taken under the wing of a violent group of thugs. Myroslav spoke briefly to Michael Pattison.
Michael Pattison: THE TRIBE is set at a boarding school for deaf mute children. Why did you decide to make a film in that setting?
Myroslav Slaboshpitskiy: I wanted to make a homage to silent film. A lot of films are being made this way, for instance THE ARTIST, a much more famous film. But I didn't want to make a stylization—a black and white movie or a film from the start of the twentieth century. For this reason, I had only one way to make it. I take deaf people, and they can communicate with each other, but in using sign language, they can be in a modern mute film. I think I had the idea maybe twenty years ago, when I was studying. Very close to my school there was a special boarding school for the deaf. By the way, we shot THE TRIBE in my old school.
So the school you were shooting in wasn't the deaf boarding school?
No, my school was a normal school. This school hasn't changed much from the time I studied there.
It's an incredible setting. You get a vivid sense of a lived-in space, that it's been there a while. How easy was it to film there?
You have a number of problems, and a number of risks, when you invite amateur actors to take part in your film. You have a special problem when you invite young people, who today are trying to find themselves: today he's a footballer, tomorrow he's a rock star, and the next day he's a movie star. This isn't the case just for deaf people, I think it's the case for all people. And of course it's a risk when you have such a long production because some people can say, "I don't want to take part in the film anymore," and then what do you do with them? I don't know. But, thank god, the actors were good. They were tired because we shot in the winter and we had very long filming days. A lot of rehearsals. They were tired, we were tired. But finally, I think we are happy and we didn't have any problems.
How did you come to cast the film? Are all the actors deaf mute?
Yes, all of them are deaf mute in real life. In fact in Ukraine and Russia, they do not like it when we call them 'deaf mute', because they think it's politically incorrect. I think they're just American-influenced because people told me in America it's 'deaf and dumb', but of course that is incorrect. Deaf mute, I'm not sure if it's incorrect, but okay. We found the actors from everywhere. Kiev's Institute for the Deaf Society helped us.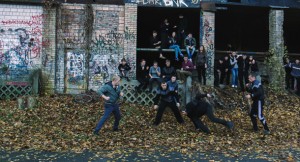 Deaf people comprise less than one per cent of the human population. As well, especially for the young, deaf people need to connect with each other to make a friendship. One of my actors told us in one of his interviews that he thinks the Internet and social networks were created especially for deaf people—[deaf people] are very active users of social networks, because they make it much easier to communicate in real life. We put out information on a lot of special websites. Not on Facebook because we looked for people on the Russian social network—it looks similar to Facebook, they call it VKontakte. And we looked on Vkontakte, and said casting will take place on this day or that day, and then we just waited to see who would come for a part. I think we probably looked at 300 people, from Russia, Ukraine and Belarus. And originally we had most actors from Ukraine, of course, but [some are] from a small Belarusian village and one guy is from Russia.
There seems to be a tension in the film between a community that's marginalised and yet is also mimicking gangster films and organised crime.
In fact, there was a funny story during casting. We'd ask one guy to do something in the screening room, and then if he interested us we'd take him and a few people to the school, and my DoP [Valentyn Vasyanovych] would take his Canon Mark II and try to shoot some scenes and see how they look together, in the scene and so on. For this reason we always had different casting: some people would come, some people would go. And one of the actors had worked at the Cultural Center of the Ukrainian Deaf People's Society. He went to the very conservative head of the centre and told him about the script. Now, nobody sees the script, no one, the actors didn't see the script before we filmed, they'd just have a scene before shooting, and after shooting we'd take it away again. And this conservative guy, who's head of the Cultural Center of the Ukrainian Deaf People's Society, said it was a bad film, and the centre stopped working with us—and regretted their membership working with us.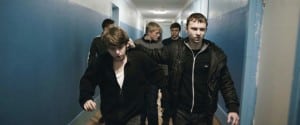 But anyway, we informed the actors, and they said, "Fuck the Society," you know, and they took part. Of course, we missed some people in casting after that. But after the filming was finished, it was a strange situation. Of course, the film is fiction. The young people, and a lot of people from the international deaf community, are so proud of the film. I have a lot of deaf friends on Facebook from all around the globe, for example from Egypt or the United States or Bulgaria. And they're so proud, in fact, that deaf people made a film that won in Cannes. That made them very proud. And I saw deaf people in the screenings at Cannes and at Karlovy Vary, and they said, "Thank you," that they were impressed, and you know… It's politically correct for people to want the characters to be cute, but in real life people aren't so very cute.
READ MICHAEL PATTISON'S REVIEW OF THE TRIBE HERE. THE FILM IS ON GENERAL RELEASE FROM 17 MAY
[youtube id="bpLj9WYBK_c" width="600″ height="350″]