The cinema of Pier Paolo Pasolini is one of the highlights of this year's Bergamo Film Meeting taking place from 9 until 17 March 2019 in the ancient city just north of Milan in Lombardia.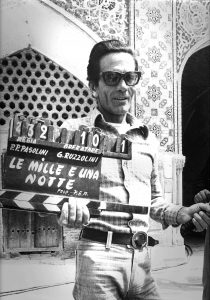 PASOLINI AND THE ARABIAN NIGHTS, will consist of an exhibition of the auteur's photos and the screening of three recently restored films: the delicately erotic Il fiore delle Mille e una notte (Arabian Nights (1974), and his two entographical documentaries: Le mura di Sana'a (The Walls of Sana'a (1971) and Appunti per un film sull'India (Notes for a film about India (1968).
In 1961 Pasolini took a trip to India with Elsa Morante and the writer Alberto Moravia (Il Conformista). Pasolini's idea was to compare the stark reality of  the appalling poverty they encountered, with the myths and legends of the vast and exotic continent with its multi-faceted cultures. The focus here is Bombay and the extreme poverty of its environs. Sixty years later, the constrast betweet rich and poor appears even more polarised.
In 1971, while filming of The Decameron, Pasolini made this 13 minute documentary serving as an impassioned plea to UNESCO to preserve Yemen's capital and its ancient construction. The result was this short film The Walls of Sana'a.
BERGAMO FILM MEETING | 9-17 MARCH 2019