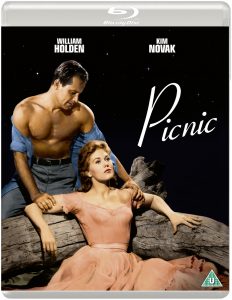 Dir.: Joshua Logan; Cast: William Holden, Kim Novak, Betty Field, Susan Strasberg, Cliff Robertson, Rosalind Russell, Arthur O'Connell; USA 1955/56, 115 min.
Joshua Logan's film adaption of Picnic, which he directed on Broadway, stands out for its daring content in the midst of the ultra-conservative Eisenhower era. Based on the play by William Inge, and written by Daniel Taradash, Picnic is set in small-town Kansas, and combines strong female roles and a rather refreshing political outlook, very much in contrast with other major Hollywood production of the time.
Just before Labor Day, in early September 1955, drifter and Ex-college football star Hal Carter (a trim William Holden) fetches up in town after a short and failed Hollywood career. He intends to visit college friend Alan Benson (Robertson in his debut), to ask for a job in the Alain's father's grain factor. After scrounging breakfast from Mrs. Potts, a kind and understanding soul, he meets sisters Madge (Novak) and Millie (Strasberg) and their permanently worried mother Flo (Field). Beautiful but insecure Madge, wants to be more than 'pretty', and her relationship with upper-class Alan, is fraught on many levels. Millie, is rebellious – not wanting to confirm to her female role – and a voracious reader. That evening, Madge is crowned 'Queen of the Fair", but elopes with Hal for a few hours, leaving Alan seething. As Hal has used Alan's car, the police get involved, but Hal escapes, making Madge promise they will meet in Tulsa the next day. And while schoolteacher Rosemary Sidney (Russell) lassos herself a very reluctant husband (Benson), Madge must make a decision. Sister Millie sends her on the way to Tulsa: "Do something intelligent for a change, you love Hal". Millie herself will soon go to college and "then New York to write novels".      
Even though Holden was already 37 (and not 22 as in the play), he dominates with his physical vitality, but rather a melancholic outlook. He is the bad boy from the wrong side of the tracks, but at least he is alive, and not emotionally dead like the majority of the towns people. Novak (as in Vertigo, not the first choice of the director), is a little too simpering, but gets more convincing in her scenes with Holden. Strasberg's Millie is very much the feminist/lesbian prototype, even though censorship would not allow her to come clean. 
The final scene is one of first ever to be filmed from a helicopter, showing the train with the ticketless Holden on board, driving into a better future. Whilst veteran DoP James Wong Hong (The Old Man and the Sea) excels with brilliant, widescreen panoramas of the festivities, his assistant Haskell Wexler (Medium Cool), who shot the helicopter scene, would go on to be a legend on his own.
Joshua Logan (1908-1988) would go on to direct nine features – including Bus Stop and South Pacific – between 1955 and 1969, he was a prolific Broadway director winning seven Tony Awards. He started making films whole at Princeton, and his casts included Henry Fonda and James Stewart. Logan suffered from Bi-Polar disorder, writing openly about it in his biography at a time when such subjects were taboo. AS
DUAL FORMAT NOW OUT COURTESY OF EUREKA