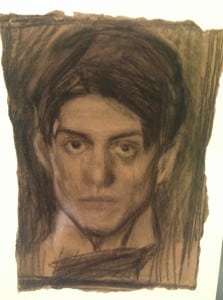 In life and in death Pablo Ruiz Picasso (1881-1973) was an iconic figure who continues to influence and mesmerise with his potent magnetism, prodigious talent and stylistic versatility as an artist, sculptor, stage designer and playwright. Born in Malaga, Picasso spent most of his adult life in France where he co-founded the innovative Cubist movement at the opening of the 20th century. Surrealism came in the 1920s, and he portrayed the atrocities of the Spanish Civil war in his painting Guernica (1937). And as he changed his style, each phase of his creative output was partnered by a new romantic relationship.
Picasso has also captured the imagination of filmmakers in both drama and documentary features, and his close friendship with Jean Cocteau led to the pair collaborating on a one-set ballet 'Parade' for the Ballets Russes, for which he designed the sets and costumes.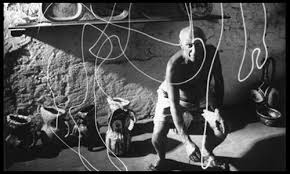 In 1956 Henri-Georges Clousot documented Picasso's creative process at work in the dialogue-free Le Mystère Picasso. Claude Renoir position the camera behind the canvas so that the artist is simply seen painting and drawing for 75 minutes, without his hands and arms blocking the view (right).
Picasso gets the James Ivory treatment in the romantic biopic Surviving Picasso (1996) where Ruth Prawer Jhabvala's engaging narrative framework explores his often ferocious cruelty during his two passionate marriages and love affairs with Olga Kokhlowa (Jane Lapotaire), Françoise Gilot (Natascha McElhone); Dora Maar (Julianne Moore) and Marie Therese (Susannah Harker).
Now Malaga born Antonio Banderas is set to play the artist in 33 DIAS which explores Picasso's emotional turmoil as he worked on the Guernica mural during his relationship with Dora Maar (Gwyneth Paltrow. BAFTA awarded Carlos Saura (Cria Cuervos) will write and direct the drama which should be out later in 2017.
Meanwhile a new exhibition of Picasso's portraits is currently showing at the National Portrait Gallery until January 2017.
PICASSO PORTRAITS