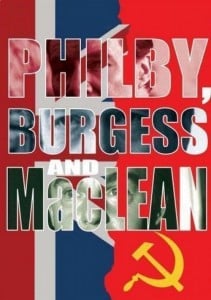 Director: Gordon Flemyng   Writer: Ian Curteis
Cast: Anthony Bate, Derek Jacobi, Michael Culver
78 mins / Drama / United Kingdom
During the British Cinema's darkest hour in the 1970s it would occasionally be observed that the British film was in fact still alive and well, but was to be found on the small screen rather than the big screen. Had Philby Burgess & Maclean, for example, received even a perfunctory cinema release rather than just one TV screening on ITV on the evening of 31 May 1977, it would – instead of soon receding from memory after getting excellent reviews in the press – continue to enjoy the reputation that it merits.
Philby Burgess & Maclean belongs with John Schlesinger's later TV production An Englishman Abroad (1983) in its depiction of the older Guy Burgess as a dissolute drunk and Donald Maclean as a morose one rather than as the guilded youths that have since become much more familiar in Another Country and Cambridge Spies. Steven Spielberg's recent Bridge of Spies is similarly suffused with a soft-focused nostalgia for a lost era; (in Spielberg's case for the time when the young Steven was curled up on the sofa watching 77 Sunset Strip).
Philby Burgess & Maclean, on the other hand, was made while many of the protagonists were still alive and Anthony Blunt had not yet been exposed and stripped of his knighthood. Ian Curteis's script manages briskly to cover most of the facts as they were then known; while director Gordon Flemyng brings to the convoluted proceedings the same brevity and clarity of the Edgar Wallace second features he made for Merton Park during the early sixties. The succinct 78 minutes of Philby Burgess & Maclean (minus ad breaks) displays a narrative economy while being both tense and witty that puts Spielberg's film – at 141 minutes almost twice its length – utterly to shame; and from which many of today's filmmakers could learn.
Philby Burgess & Maclean now looks very dated indeed, but to its advantage. Alan Parker's jarringly anachronistic seventies synthesized score and the Top of the Pops graphics (the opening iris out on the sweaty face of Soviet defector Konstantin Volkov and the later scene depicting President Truman's outraged response to the news that Russia now had the Bomb stand out as particular highlights in this respect) actually enhance its impact as a tingling tale of intrigue and espionage in the vein of The Ipcress File. Although the costumes and décor – as well as the modest TV production values and drab seventies colour – perfectly evoke the original postwar Austerity Britain, they do so without smothering the drama.
The large cast is an enjoyable mix of British 'B' movie stalwarts like Patrick Holt and Bernard Archard (the latter known to an earlier generation of TV viewers as Lt Col. Oreste Pinto in Spycatcher) and relatively new boys like an almost unrecognisably young and slim Oliver Ford Davies and a scene stealing Derek Jacobi, who had just become a household name on the strength of the previous summer's I Claudius and dominates the proceedings with a suitably flamboyant turn as Guy Burgess. All the acting, however, is superb, with Michael Culver vividly conveying the toll that the strain of working as a spy had taken on Donald Maclean's nervous system; in marked contrast to Anthony Bate's quietly ruthless Philby, always keeping his head while all around are losing theirs. Arthur Lowe contributes a priceless cameo as the future President of the British Board of Film Censors, Herbert Morrison, who had to suffer the humiliation of Burgess & Maclean's defection on his brief watch as Foreign Secretary in 1951. Philby and Maclean's wives are both vividly drawn by the late Ingrid Hafner and – particularly – Elizabeth Seal; both repulsed by Guy Burgess and at a complete loss to understand their husbands' unyielding loyalty to him. Another clever piece of casting is the actor and political activist David Markham – whose vigorous campaign for the release of Soviet dissident Vladimir Bukovsky had just recently ended in success – as MI5 interrogator Jim Skardon, who interrogated Philby ten times without ever managing to pin him down.
With the recent publication of Andrew Lownie's biography of Guy Burgess, interest in the Terrible Trio seems likely to continue unabated for some time yet; and it is to be hoped that Network's recent dvd release of Philby Burgess & Maclean will aid in bringing this forgotten gem to the wider audience that it so richly deserves. RICHARD CHATTEN
NOW AVAILABLE ON DVD | UK ONLY ON AMAZON.CO.UK