The BFI celebrates Peter Greenaway's 80th birthday with a retrospective and the premiere of his new feature Walking in Paris. And here Andre Simonoveisz reflects on his career to date
The Welsh born director, writer, artist and painter Peter Greenaway is certainly one of the most controversial contemporary filmmakers, and to this day his films are an acquired taste. The jury is still out on whether Greenaway wants to be an arthouse filmmaker, or merely a trained artist who uses the big screen as a canvas for his painterly creations, and the fact that his films lack any formal narrative structure seems to point to the latter: Greenaway's features often have a stilted feel, unfolding in a series of formal set pieces rather than in flowing storytelling.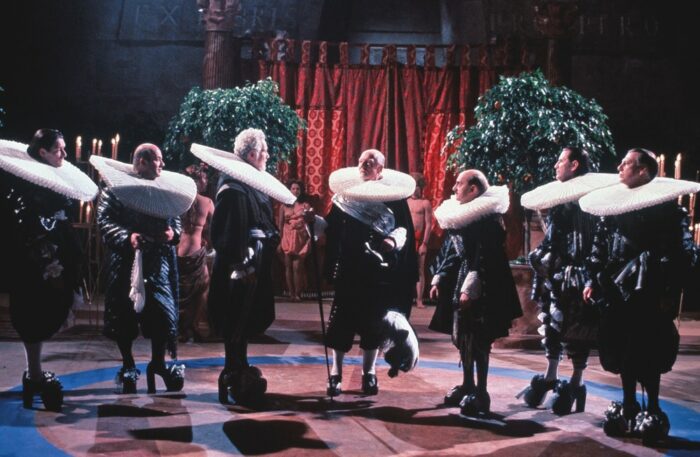 Composition, lighting and costumes are always the most significant elements in a Greenaway film. And yes, the aesthetics are wonderful to look at, but they are only as alive as Greenaway allows them to be. The artist/painter Greenaway is always in control of the filmmaking process: and rather like Robert Bresson before him, the actors are merely pawns in the process, with the camera as a paintbrush. The rest is amateur philosophy and a total reliance on art history, Renaissance, Baroque and Flemish predominating. On his way to visual perfection, second-hand or otherwise, Greenaway chanced upon film as his medium, and has used it as an intermediate step.
This is perhaps too critical of his work, but let's go back to the beginning of his feature film career with The Falls (1980) an avantgarde sci-fi mockumentary that looks at the 92 victims of a phenomenon known as VUE (Violent unknown events) and whose names begin with the word 'Fall'. Just over three hours long, this an etude, a whimsical compendium of surreal and bizarre circumstances explores just how far away from his creation the filmmaker was – or pretended to be. Can we ever be an objective observer of death? Or was the result proof, that the highbrow 'intellectual' Greenaway was above all the parochial issues of real life – and death.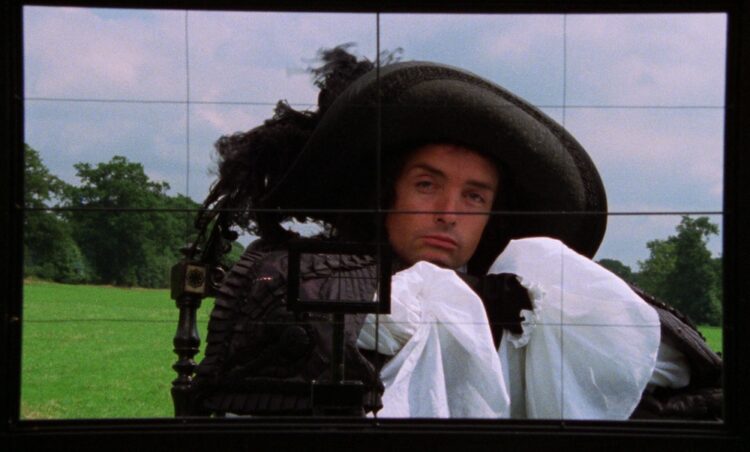 The Draughtsman's Contract (1982) was a bracingly beautiful piece of work scored by Michael Nyman's minimalist soundscape which carried the narrative forward and is more memorable than its contrived murder story. The dapper draughtsman, Mr. Neville (Higgins) is foisted by his own elegant petard and falsely accused of murder after a series of sexual dalliances with the aristocratic ladies Mrs. Herbert (Suzman) and her daughter Mrs. Talman (Lambert). But the 'story' pales into insignificance in comparison with its magnificent surroundings, and what we remember is the bucolic backdrop, the feudal mansion, the immaculate costumes and the way Mr. Neville plays the director whilst he re-arranges life to suit his drawings. Many Greenaway films are about sexual obsession and The Draughtsman is no exception, it is a remote object of desire rather than an involving comedy of manners; sex, after all, is just another construct for the filmmaker to exploit.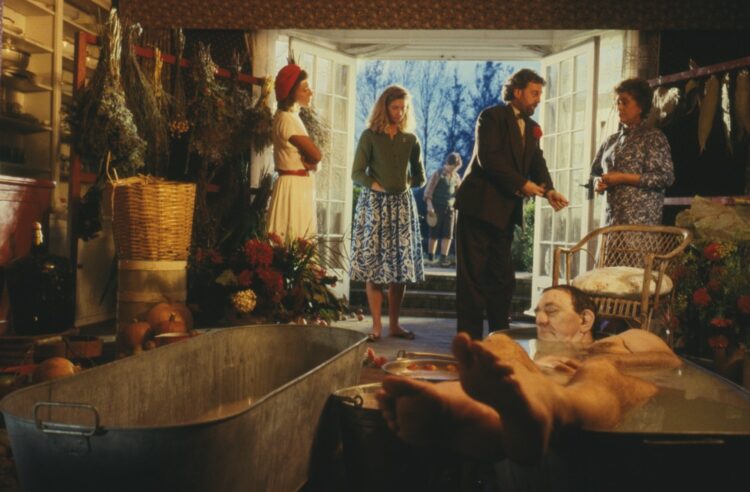 The Cook, the Thief his Wife and her Lover (1989) is considered Greenaway's most mature feature. From here he could have taken another route: instead of being obsessed by numbers or esoteric subjects, he could have really embraced the meaning of life, but instead his feature once again mirrors art, quite literally, recreating the 1616 painting by Flemish baroque artist Frans Hals. Michael Gambon is the churlish and sadistic thief Albert Spica, who owns a French restaurant in London where he entertains his cronies, amongst them is a young Tim Roth. His wife Georgina (Mirren) is appalled, and soon finds herself a suitable lover, Michael (Howard), a bookseller. They have to be careful, and conduct their romance in all sorts of seedy settings. Albert wises up and tortures Michael by force-feeding him. Georgina exacts her revenge in an equally disgusting way before she shoots him. This sounds ghastlier than it actually is – but crucially the takeaway is once again the aesthetic rather than the storyline – which is entirely unreliable. Jean-Paul Gaulthier designed the 17th century costumes and camerawork by DoP Sacha Vierny reflects the airless grandeur. Dutch producer Kes Kasander would stay with Greenaway for more tilts at artistic perfection. Premiering at the Venice Film Festival in 1989, The Cook was shown "Out of Competition". When asked why he decided not to enter Greenaway's film "In Competition" festival director Guglielmo Biraghi explained that loved the work of Greenaway, but "it his films are not really like others."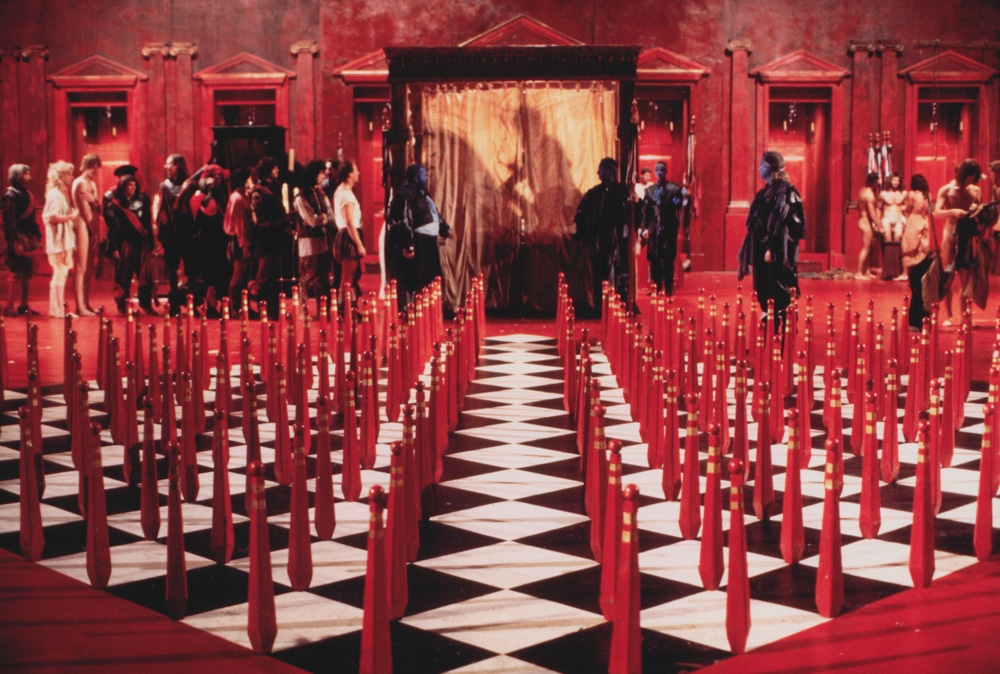 What followed were highs like Prospero, The Baby of Macon and total flops including the soulless series of The Tulse Luper Suitcases. Somehow, the world decided to move on. AS
THE BFI CELEBRATES PETER GREENAWAY IN HIS 80TH YEAR.