Dir.: Abel Ferrara
Cast: Willem Dafoe, Ninetto Davoli, Maria de Medeiros, Adriana Asti, Riccardo Scamarcio
USA 2014, 85 mim.
November 2nd 1975: the final day in the life of Pier Paolo Pasolini, Italian poet, novelist and filmmaker. After returning from Stockholm, were he met Ingmar Bergman amongst others, Pasolini's day starts with a letter to his friend and fellow writer Alberto Moravia, asking him for advice on his nearly finished novel "Petrolio". Later he is interviewed by a journalist and then dines with friends in a restaurant for supper, before setting off on his last journey to Ostia, having picked up the 17 year-old male prostitute Pelosi. In Ostia, on an abandoned football pitch, he is attacked by a gang, beaten to death. His Alfa Romeo driven over his prostrate body.
Abel Ferrara's enigmatic portrait reigns back on any sensationalism to cover Pier Paolo Pasolini's last day with dignity and sobriety. We see a refined man in love with writing and films; planning future projects on both fronts. We also see a man fearful of the future. "We are all in danger" – he tells a journalist. This is hardly surprising since the seventies in Italy was a decade fraught with politically motivated violence, kidnappings of industrialists and attacks by the "Brigate Rosse" (Red Brigades). Pasolini, a fervent Marxist, had many enemies.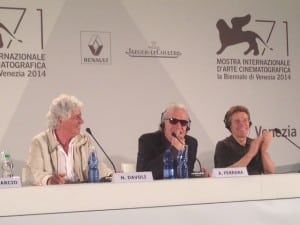 Unlike Giordana in his 1995 film Pasolini, an Italian Crime, Ferrara does not dwell on the conspiracy theories, he simply shows a man who thrived on the streets of the Roman underworld. Cruising in his sports car, behind dark glasses, he diced with danger, enjoying casual sex with young adonises, often from the wrong side of the tracks. The film includes a part realisation of Pasolini's film project "Porno-Teo-Kolossal", where on one day of the year, the gay and lesbian denizens of the city have intercourse together, in order to procreate.
In a dynamite performance, Willem Dafoe not only looks like Pasolini, but brings him to life with integrity, sparse gestures; an economy of movement. Overall, PASOLINI is a film worthy of its subject, showing the two sides of the man: a sometimes aloof intellectual who loses his cool (and finally his head) in dangerous liaisons. In the end, Pasolini became a victim of the society he portrayed. AS/MT
REVIEWED AT VENICE INTERNATIONAL FILM FESTIVAL RUNS UNTIL 2014. ON GENERAL RELEASE FROM SEPTEMBER 2015