Dir.: Wim Wenders; Cast: Harry Dean Stanton, Nasstassja Kinski, Dean Stockwell, Aurore Clement, Hunter Carson, Bernhard Wicki; West Germany/France 1984, 147 min.
German director Wim Wenders follows his earlier road movies with a real cult classic. Paris, Texas is perhaps most memorable for Harry Dean Stanton, Ry Cooder's moody score and the burning images of the Wenders regular, Austrian DoP Robby Müller. Written by the Sam Shephard, and adapted for the screen by L.M. Kit Carson, this enigmatic character drama won the "Palme d'Or" in Cannes 1984.
Stanton is Travis Henderson, an aimless drifter who stumbles into a bar in the Texan desert, and promptly passes out. A German doctor (Wicki) revives him and finds a piece of paper with a phone number, in the man's pocket. It belongs to Travis' brother Walt (the charismatic Dean Stockwell), who collect him and endures his brother's stony silence on the long drive back to LA where Walt lives with his gentle wife Anne (Clement) and Travis' 7 year old son Hunter (H Carson, son of Karen Black and Kit Carson) who they have raised for the past four years.
Hunter and Travis hit it off – against all odds – and Anne tells Travis that Hunter's birth mother is paying a monthly deposit money into an account for her son. Travis and Hunter track Jane (Kinski) down to San Antonio, Texas where it transpires she is working as a sex worker in a Peep-Show. Pretending to be a client, Travis, who can not be seen by Jane because of one-way glass window, talks to her via an intercom, sharing their love story until she cottons on. Confused by his emotions but wanting the best for Hunter, Travis finally hatches a very unlikely plan.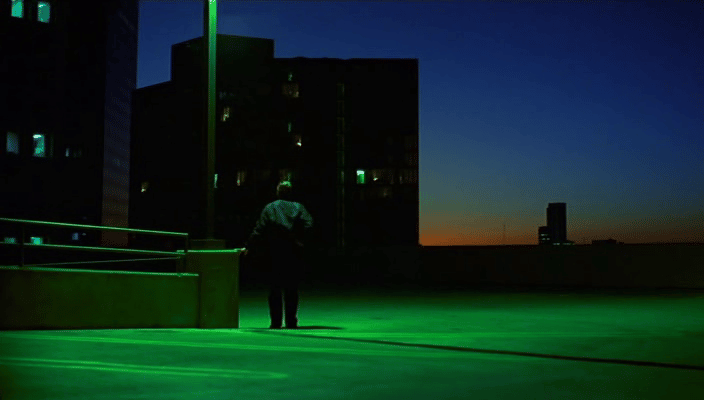 Guilt is the watchword in Wenders' movies. Overtaken by the emotion from an early age, he considered taking the priesthood to fulfil his strong feelings about Catholicism. Nearly all his anti-heroes live their lives in the past, and fear the future. Travis' unfounded jealousy and alcoholism led to the break-up of the torrid relationship with the much younger Jane (a luminous Kinski). He had even bought a plot of land to prepare for their future together. Only a crumpled photo of a ramshackle hut in the desert remains. But Travis clings to it like a totem. Along with the titular hero in The Goalkeeper's Fear of the Penalty (1972), who kills out of boredom, Travis is always running away, not to find anything, just to lose himself.
The German photographer in Alice in the Cities (1974) escapes to another continent to 'forget' a relationship, only to be trumped by a mother who leaves her daughter in his care, expecting him to trace the girl's relatives in Germany. Kings of the Road (1976) sees two lorry drivers dreaming of a future which will never be realised because they can only talk about women, and how much they miss them. Finally, in The American Friend (1977) Zimmermann, a painter and frame-maker, is unable to communicate his physical and emotional turmoil to his wife; instead he goes on murdering spree, for money.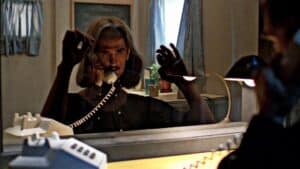 Paris, Texas raises the timely theme of belonging: As nurturing fill-in parents to Hunter for most of his life, Walt and Anne are the losers of the piece. But Wenders hardly touches on their emotional arc – or their pain – in the aftermath to Hunter's departure. His focus is the birth mother and son who must be united at all costs. And their final scene together brings to mind the emblematic coupling of Christ with the Virgin Mary.
Leading men are generally loners in Wenders' features, their isolating fear of women gradually diminishes their persona as the narrative unfolds. Violence is never far away, and Travis suppresses his anger into a brooding silence. Harry Dean Stanton channels a palpable intensity of feelings into a performance that is subtle and exquisitely felt, but barely shown. His brother Walt is likeable and articulate along with his delicate wife Anne, a touching turn from Aurore Clement. There's an almost whimsical quality to the early domestic scenes with the four of them together. Where there could have been emotional trauma and harsh words, Wenders instead brings a tender, almost comedic lightness of touch.
Wenders' love for America and its culture is explainable: violence is simmering under the surface, ready to explode at any time. Paris, Texas is never violent, but the emotional pain is only too visible. A cult classic that needs to be explored again and again.
ON RE-RELEASE AT Picturehouses | Curzon Cinemas | from 29th July 2022