Director: Joachim Trier
Script: Joachim Trier, Eskil Vogt
Producers: Hans-Jorgen Osnes, Yngve Saether
Cast: Anders Danielsen Lie, Hans Olav Brenner, Ingrid Olava, Anders Borchgrevink, Andreas Braaten, Malin Crepin, Petter Width Kristiansen
Norway  2011 95mins Drama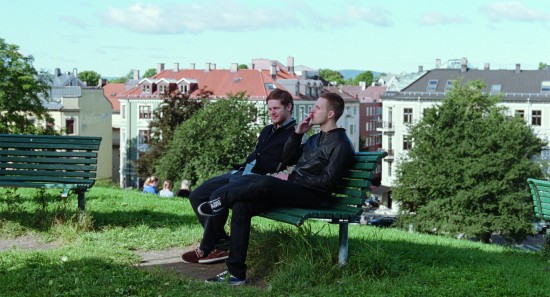 August 31st; the day they empty the outdoor City pools, denoting the end of Summer. A variation on a theme of the 1931 novel Feu Follet by Pierre Drieu La Rochelle, previously dramatized by one Louis Malle.
This is the second collaboration between filmmaker Trier and the sublime Anders Danielsen Lie, playing the lead in the story of a 34 year old man allowed out of rehab two weeks before he completes his course to go for a job interview, thereby helping facilitate his path back to normality.
Anders is a handsome, erudite, educated, middleclass man who by succumbing to addiction, lost five years of his life to drugs. His day out allows him to consider his life, revisit fractured friendships and wander the vibrant streets of sunny Oslo with new eyes.
Oslo is a quiet, powerful and profound meditation on what it means not just to be an addict, but upon the burden of adulthood and the facing of one's own mortality. The disparity between ones hopes and dreams, one's ignorant optimism as a child and the burgeoning reality of existing in the modern Western world.
It's for this reason that the film elevates itself beyond drama, to the level of a poem, an ode to life, through this very personal journey of just one. The stand out central performance by Anders a study in pain, frustration, anger and self-loathing never overplayed, nor false note hit.
One of the highlight films -and all the better for being so unexpected, of this Nordic Film Festival. AT