So, LA GRANDE BELLEZZA wins the Oscar placing Paolo Sorrentino firmly on the international map. The Oscars are not all about the big studios and the blockbusters:  The archaically-named "Foreign-Language Section" was full of fascinating dramas  from all corners of the Globe from Hungary to Cambodia.  After disappointment for WADJDA and BLUE IS THE WARMEST COLOUR, who didn't make the list – let's look back at the films that competing in the year's race to the Red Carpet.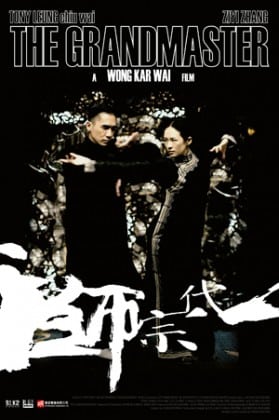 Hong Kong director: Wong Ka Wai will present The Grandmaster, a dazzling drama of noirish shadows and precision camerawork by Philippe Le Sourd. It tells the story of two Kung Fu masters – Ip Man (the man) from China's south and Gong Er (Ziyi Zhang) is his adversary) from the north. Their paths cross in Foshan on the eve of the Japanese invasion in 1936. Gong Er's father is travelling to Foshan to visit the legendary brothel, The Golden Pavilion, where the country's best martial artists come together for his retirement ceremony. This tale of betrayal, honour and love plays out against a war-torn backdrop as is Wong Ka Wai's most commercial outing so far.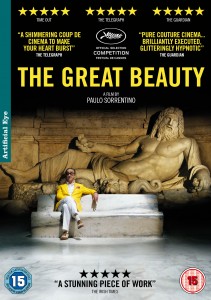 Paolo Sorrentino first came to fame with his 2004 outing Consequences of Love: a mafia thriller and love story set in Northern Italy. It featured a magnificent central performance from Toni Servillo who also stars in Italy's nomination The Great Beauty, possibly his best film so far.  Capturing the essence of Italy's rich, beautiful and cultured middle classes with an appealing and bittersweet languor that was first described in Fellini's La Dolce Vita, Servillo here plays Jep Gambardella, a writer, raconteur and party-animnal who embarks on a Proustian trip down memory lane in the rich Autumn of his life.  Ageing but suave, he exudes Mediterranean masculinity and confidence until he is suddenly jolted from his benign state of bachelorhood by an unexpected discovery that throws him off-balance and into action before all is finally lost in old age.  The Great Beauty is an opulent banquet for the senses, epitomising the cultural essence of Italy and particularly of Rome.
Belgian's entry is a musical love-story based on a true-life band.  Inspired by Johan Heldenbergh (one of the stars of "The Misfortunates") and Mieke Dobbels, it's cleverly brought to life by Van Groeningen and set in the lush, bucolic countryside around Bruges, Belgium.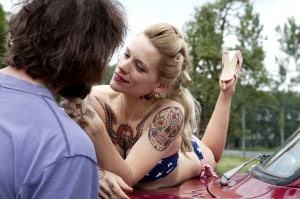 Didier (Heldenbergh), a singer and musician and his partner Elise (Veerle Baetens), discover during a hospital visit in Ghent that their 6-year-old daughter, Maybelle (Nell Cattrysse), has leukaemia.
There's a vibrant energy to Moving Circle and Heldenbergh and Baetens' attraction feels real in moments of elation and sadness and they give passionate performances especially between the sheets, and when they perform with the Didier's local 'Blue-grass' Band. As the narrative develops though, the storytelling becomes more erratic despite strong and heartfelt performances from the leads and particularly Veerle Baetens' who is one of Belgian's most popular actresses.
The Notebook (Le Grand Cahier) is János Szász's magnificent screen adaptation of Agota Kristof"s French-language: 'The Notebook' (hence the title) – a lesson in history and Hungary's nomination to the 86th Academy Awards. Christian Berger's sumptuous visual treatment almost blunts the harrowing nature of this Second World War tale of twin boys who are taken by their mother Gyöngyver Bognar, (Opium) to live in near-starvation with their tyrannical peasant grandmother (who  villagers call "the witch") deep in the countryside.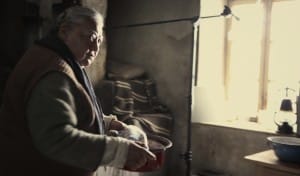 Their experiences are recorded in a notebook, providing illustrative testament to this important slice of Hungarian history and  serve as an intriguing psychological texture to the ongoing World War narrative.Despite its harsh subject-matter, Le Grand Cahier is a beautiful film to experience accompanied by its atmospheric score. János Szász has provided a rich and important account of the impact of the war on the Hungarian countryside.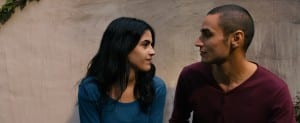 Omar was one of the hits at Cannes last year and Hany Abu-Assad's tense, gripping thriller about betrayal, suspected and real, in the Occupied Territories in the Palestinian nomination.  Adam Bakri leads as Omar, a Palestinian baker who routinely climbs over the separation wall to meet up with his girl Nadja (Leem Lubany). By night, he's either a freedom fighter or a terrorist-you decide-ready to risk his life to strike at the Israeli military with his childhood friends Tarek (Eyad Hourani) and Amjad (Samer Bisharat). Arrested after the killing of an Israeli soldier and tricked into an admission of guilt by association, he agrees to work as an informant. So begins a dangerous game-is he playing his Israeli handler (Waleed F. Zuaiter) or will he really betray his cause? And who can he trust on either side? Hany Abu-Assad (Paradise Now) dynamic, action-packed drama also engages with the universal themes of  moral dilemmas and tough choices that face those on the frontlines of all international conflict.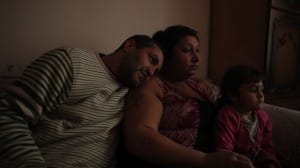 Denis Tanovic made a big impression at Berlin this year with Incident in the Life of an Ironpicker (Bosnia Herzegovina), a piece of social realism that offers slim pickings in the way of entertainment or standout performances (despite the non-actor lead winning Best Actor in Berlin) but nevertheless raises the important debate on the plight of Roma gypsies in contemporary Europe. Traditionally they have wandered all over the place pursuing their own moral and social cod, living in encampments and opting  out of social costs.  Tanovic takes a poor couple who live with their two little girls a Roma gypsy camp in Bosnia Herzegovina. Denis Tanovic's trick of using non-professional actors lends authenticity to this simple story with largely improvised dialogue which draws on the international debate of small communities all over the world and he makes a strong evolutionary point with this film. May be these people have inadvertantly discovered the ultimate answer to sustainability by running their own show in a political regime where many people feel marginalised, unheard, unloved, uncared-for and ultimately disenfranchised in the organised mainstream. But then the Romas weren't running their own show; they needed medical care and they couldn't provide it within their own community. A simple tale then that offers stimulating food for thought and a universal message.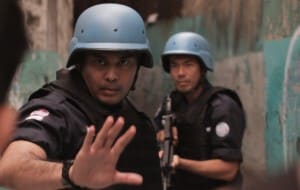 The British entry for the Oscars is another tale of the disenfranchised and comes from Sean Ellis, a British director who shot his tense thriller, Metro Manila while on location in the Philippines.  First shown at Sundance Film Festival in January, Ellis' quest for authenticity and his desire to shoot the film in local Tagalog language made the project a hard sell to financiers, but he eventually succeeded. The story centres on a young couple of economic migrants with two small kids who move to the violent urban conglomeration of Metro Manila from the countryside, in a bid to survive.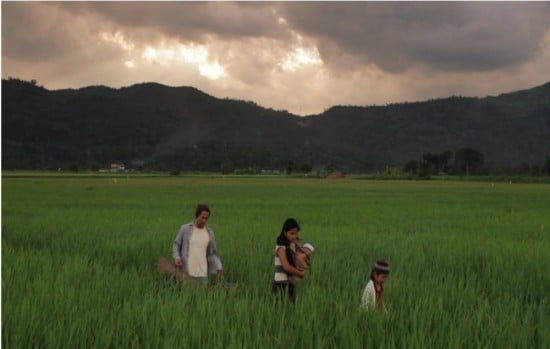 Poetic in feel and sumptuously filmed, Metro Manila is a immersive thriller: Sean Ellis's skill with his lenses, the lush tropical countryside, and the gentle-looking Philippino leads Jake Macapagal (Oscar) and Althea Vega (Mai), give natural performances and their lovely children make this a pleasurable watch that feels refreshingly thoughtful as a counterpoint to the mounting suspense it generates.
The Danish submission The Hunt, comes from Thomas Vinterburg and actually premiered at Berlin in 2012.  It's a mischievous psychological study of child abuse in a traditional contemporary village community in the heart of the Danish countryside.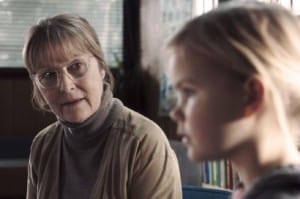 The action revolves around Mads Mikkelsen who is pitch-perfect as Lucas, a metrosexual man relocating to the place of his childhood after a difficult divorce and custody battle for his son. And although Mads has been a baddie for much of his career, as Lucas, we're rooting for him all the way as he fights his corner. The performance won him best actor and Cannes this year and, for my money, The Hunt was one of the best films showing at the festival, along with Heneke's Amour which won the Palme D'Or. It also stars Thomas Bo Larsen and Alexandra Rapaport.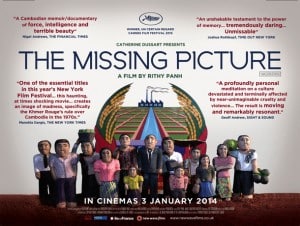 And finally, Rithy Pahn's The Missing Picture reflects his experiences with genocide on a large scale and serves as a heartfelt memoir of the invasion of Cambodia in the seventies.  Making his documentary has helped him come to terms with the terrible losses he suffered during the time of his adolescence, when over 2 million people died during the regime.
Using a collage of bleached-out black and white footage and finely-rendered clay figurines (symbolising stultifying control) set to a weirdly sinister score. What emerges is a a non-confrontational animated record of the hostilities; as individuals became a collective of meaningless numbers imprisoned by the Khmer Rouge to become Democratic Kampuchea. In a regime (similar Nazism and Stalinism) characterised by hunger, torture and emotional cruelty and lack of respect or compassion for the individual, Panh tells how his father was denied a decent burial. Schools became detention centres reflecting a 'perfect society' where Marxist ideology reigned as revolutionary winds wafted through the paddy fields heralding ideals of creating an agrarian socialist economy which failed incontrovertibly leading to the deaths (from hunger) of millions of its inhabitants. The mantra – "Whoever apposes, is a corpse" indeed became a reality.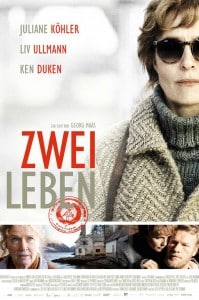 Completing the list is Germany's official entry for best foreign language film is Two Lives, an historical drama from director Georg Maas starring Juliane Kohler and Liv Ullmann. Based on the true story of Kathrine Evensen (Kohler), a German woman brought up in East Germany and  living in Norway, is the child of a Norwegian woman (Liv Ullmann) and a German Second World War solider. Her secret past gradually emerges during the time of the fall of the Berlin Wall.
THE 86TH ACADEMY AWARDS TAKE PLACE ON 2 MARCH 2014 IN HOLLYWOOD, LOS ANGELES.
USE THE SEARCH ENGINE TO READ REVIEWS OF THE FOREIGN-LANGUAGE NOMINATIONS.