Open City Documentary Festival is back in London from 21 – 26 June 2016 bringing 26 UK premieres to Picturehouse Central, Hackney Picturehouse, Crouch End Picturehouse, Regent Street Cinema, ICA, Bertha Dochouse and JW3. During six days the festival will screen over 60 films plus programmes of short films, special events, a programme of industry masterclasses, talks, networking drinks and parties.
The 6 day festival opens with  THE GREAT WALL – Tadgh O'Sullivan's exploration of how we keep the hordes of would be migrants and refugees from 'swamping' our wealthy and secure societies? We don't like to think about the answer: we build walls. Alongside O'Sullivan's troubled images we hear Kafka's short story, The Great Wall of China – an inspired juxtaposition.
This year's Closing Night Film is  DEPTH  2 Ongjen Glavonic's salient reminder of  Milošević's regime in what had been Yugoslavia. Glavonić uses voiceover victim testimony from the ICTY trials over a series of tableaux of the Serbian countryside. The effect of this audio is incredibly powerful – as the documentary thriller unveils its terrible tale.
A pioneer of the line drawn between documentary, anthropology ethnomusicology and visual/arts performance, Vincent Moon is a singular figure in the European cultural landscape. He will be premiering a live audio-visual performance which explores the art of ritual and a tenth year anniversary of his pioneering web series 'The Take Away Shows'.
The Ross Brothers are the festival's other special guests: American brothers Bill and Turner Ross's work is some of the most exciting work to emerge from America and yet has had very little attention in the UK. OCDF will be showing their American Trilogy and the brothers will be giving a masterclass.
GRAND JURY AWARD
For the film that exemplifies an author in control of their subject matter, craft and story. Matching matching content and form in a powerful and persuasive fashion:
Another Year: Shengzhe Zhu / 2016 / China / 181′
Depth Two: Ognjen Glavonić / 2016 / Serbia/France / 80′
Mallory: Helena Třeštíková / 2015 / Czech Republic / 97′
EMERGING INTERNATIONAL FILMMAKER AWARD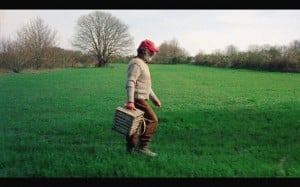 Il Solengo: Alessio Rigo de Righi & Matteo Zoppis / 2015 / Argentina/Italy / 70′ (left)
In Limbo: Antoine Viviani / 2015 / France / 84′
The Prison in 12 Landscapes: Brett Story / 2015 / Canada/UK / 84′
Roundabout in My Head: Hassan Ferhani / 2015 / Algeria / 100′
OPEN CITY DOC FEST 21-26 JUNE 2016 | TICKETS HERE