Director/Writer: Jim Jarmusch | Cast: Tilda Swinton, Tom Hiddleston, Mia Wasikowska
Jim Jarmusch adds another dimension to the vampire genre with this quirky tale of centuries-old lovers Adam (Hiddleston) and Eve (Swinton). Still blissfully inseparable despite living in different corners of the globe; Eve is in exoticly bohemian Tangiers, Adam in rain-washed mo-town Detroit. Their long lives and artistic leanings have allowed them acquaintances from Pythagoras to Bryon and Shelley and they share an intimate command of literature, science and music while taking pleasure in daintily imbibing the purest blood (sourced through medical contacts) from cut-crystal glasses.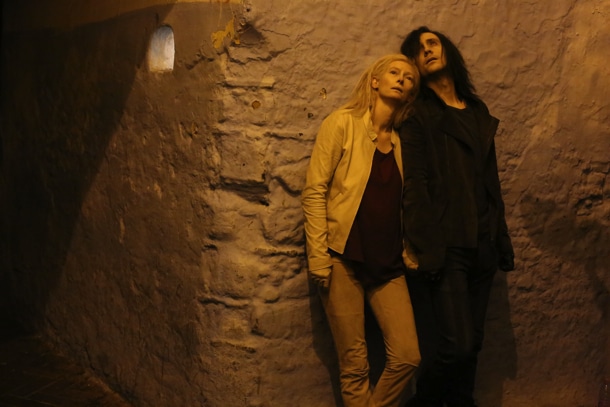 There is nothing sinister or threatening about Jarmusch's light-hearted luvvies in this droll comedy of social mores with its langorous pacing:  These are elegant, uber-vampires of considerable finesse whose own artistic endeavours have been the inspiration for Schubert and Shakespeare: Eve is still on personal terms with Christopher Marlowe (John Hurt) who lives nearby. Despite their rather ridiculous names they are coltish, cool and extremely cultured.  While visiting Detroit (on a first-class night flight from Tangiers, naturally) Eve dreams of her sister Ava (Mia Wasikowska) who then blows from LA to disturb their loved- up twilight reverie with her intrusive irritating chatter. After threatening to empty their coffers of precious supplies of pristine blood, she queers the pitch with Adam's assistant 'zombie' (Anton Yelchin).
Eventually, the runs out of steam. Jarmusch attempts to inject a serious twist to proceedings as it bleeds to death but by this stage our exhausted protagonists are finding (as we are) the going rather hard: the two-hour running time feels far longer. The lovers offer a fascinating perspective on the last thousand year captured in widescreen cityscapes, an atmospheric soundtrack of electronic and Renaissance lute music and the captivating performances of the gently-spoken leads. MT
NOW ON MUBI