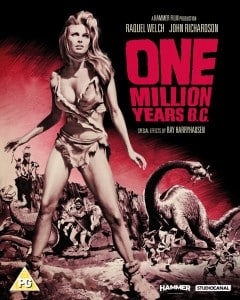 Dir: Don Chaffey | Cast: Raquel Welch, William Lyon Brown, John Richardson, Raquel Welch, Percy Herbert, Robert Brown (Akhoba) | 101min | Fantasy drama | US
English director Don Chaffey cut his teeth during the fifties and early sixties on TV titles such as The Avengers and The Prisoner. Going on eventually to make films for children such as Pete's Dragon and Jason and the Argonauts, his One Million Years B.C. (1966) reached cult status as one of Hammer Films' most expensive and profitable ventures. A remake of the Hal Roach(1940) outing, itself originally inspired by Man's Genesis (US, d. D.W.Griffith, 1912), the film was also notable for its use of American talent, notably Raquel Welch (rocking a furry bikini) as the sensationally attractive cave-girl Loana. The film sealed her iconic status as a sex symbol. And even today, her name is synonymous with sexual allure and voluptuousness. Welch's stunning physicality and beautiful bone structure is one of the main attractions here. But the film is also notable for Ray Harryhausen's impressive special effects of giant tortoises and lizards blended with stop-motion animation images of real creatures, known as the "dynamation process". Chaffey's had already used this in Jason and the Argonauts (1963) and it feels actually more plausible than current day CGI monsters.
Filmed in the craggy volcanic landscapes of Lanzarote ONE MILLION YEARS B.C. is so bad, it's actually rather good. And authentic in its appeal. The film's politically incorrectness has an ingenuousness that seems entirely acceptable and weirdly plausible as nowadays many men actually do grunt and gesticulate, having lost the power of articulate speech. The slim narrative is irrelevant but largely boils down to an evergreen scenario: man falls out with his father, gets out a bit more and makes his name in the world before returning to care for his dad and take over the family home. So what's changed? Well here the characters are fit, tanned and rather gorgeous. ONE MILLION YEARS B.C. is appealing, watchable and honest. MT
CELEBRATING ITS 50 YEAR ANNIVERSARY | 4K RESTORATION OUT ON DOUBLEPLAY DVD AND BLURAY FROM 24 OCTOBER | COURTESY OF STUDIOCANAL.
.