Dir/Wri: Lars von Trier | Cast: Charlotte Gainsbourg, Stellen Skarsgard, Uma Thurman, Shia LeBoeuf, Christian Slater, Stacy Martin, Connie Nielsen, Sophie Kennedy, Jamie Bell, Willem Dafoe Denmark, Drama   122mins  Tagline "Forget About Love"
Lars von Trier loves to spark controversy and the final chapter of his trilogy that began with Antrichrist (2009) and Melancholia (2011), continues to do just that. You are unlikely to feel indifferent to the film, but not in the way you might imagine. Screening in two 'volumes' due to its running time of nearly four hours (each part has explicit dumbed-down versions); the first opened in European cinemas appropriately on Christmas Day but now both parts available on iplayer.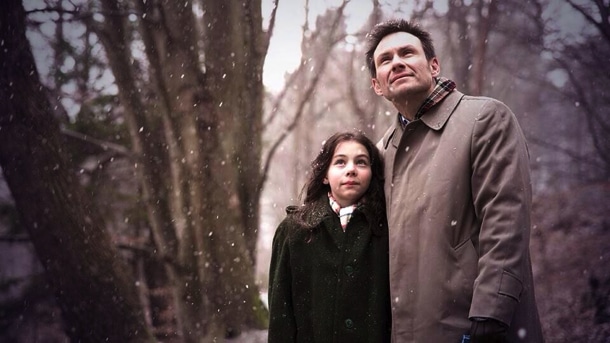 Regular collaborators Charlotte Gainsbourg and Stellen Skarsgard make ideal leads in this poetically unhinged saga that chronicles the life of Joe (Gainsbourg), a self-diagnosed 'nymphomaniac,' from birth to the age of fifty. As Gainsbourg is now fifty, Joe is played as a girl by the then newcomer Stacey Martin. But the film actually opens with Gainsbourg's Joe, who we first meet on a cold winter's night, beaten up in an alleyway.  Refusing both ambulance and Police assistance, she accepts an invitation to go home with Skarsgard's chilled-out, kindly Jewish batchelor Seligman, who is more than delighted to offer her the spare room (with rising-damp); a pair of his jimjams and a bowl of dishwater tea in return for the riveting revelations of her sex life so far.  But before launching into her erotic confessions, Joe appears philosophical and resigned: "I'm just a bad human being".  What then follows is a masterclass 'par excellence' in von Trier's inimitable style raccounting Joe's sexual exploits.
Nymphomaniac is immersive, provocative and radical but never titillating, despite the hardcore premise, possibly because neither narrator nor listener feels the slightest bit turned on in performances that could be described as morose, in the best possible way.  von Trier has made an engaging intellectual drama with a flip-side of light-hearted levity: is it deep and meaningful, or just a puerile prank?. Never taking itself too seriously, the film appeals to the 'naughty boy' in men and the sensual imagination of women – offering up the ultimate universal debate open to multiple interpretations.
During the candid revelations, Joe and Seligman gradually bond but each retain exclusive agendas, seemingly oblivious to the erotic possibilities of Joe's dialogue. Seligman likens Joe's exploits in male seduction to the behaviour of fresh-water fish, drawn from his fascination for fly-fishing, and later cleverly compares her need for multifarious lovers to Bach's three-tone 'Polyphony'.  Joe admits that her sexual conquests started as a facile competition with her teenage friend (Sophie Kennedy) to notch up the most lays – a game played with the rather childish aim of winning a bag of chocolates. Here as the young Joe, Stacy Martin gives a chilling performance conjuring up Francois Ozon's teenager 'Isabelle' in Jeune et Jolie: cold, calculating and confident with a scintilla of vulnerability (as she loses her unwanted virginity mechanically to Shia le Boeuf's Jerome at the age of fifteen);  and Michael Fassbender's Brandon in Shame – a psychopath who gorges on unlimited sex to quell his feeling of emptiness. Similarly Joe admits to using sex to stave off the "loneliness that is my constant companion".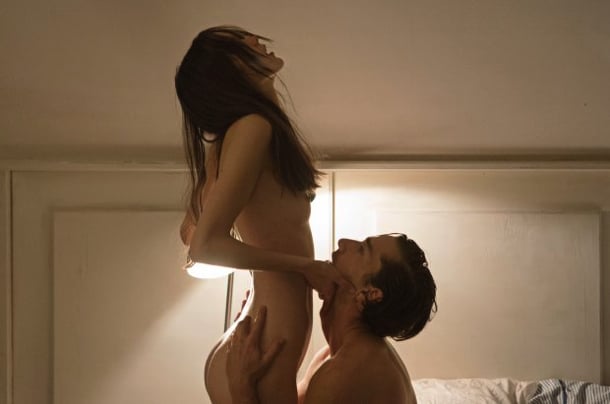 In Gainsbourg's voiceover narration we learn that Joe is a 'daddy's girl' – and the daddy is convincingly played by Christian Slater as an emotionally intelligent doctor who inculcates in his daughter a love of nature and particularly of trees, from an early age. After a spell as a low level secretary to accommodate her busy schedule of night-time lovers,  we see them come and go in strict rotation as she 'treats them mean to keep them keen'.
There are gruesome episodes featuring Uma Thurman's jilted wife (unconvincing) and Joe's father who is admitted to a hospital likened – by von Trier – to the house of Usher. Eventually Joe loses track  of her libidinous experiences, seen in a hilarious sequence of photos of circumcised and uncircumcised flaccid penises.  Her teenage exploits are a bid to separate sex from love and she never appears remotely moved by her conquests beyond the bounds of pure animalistic satisfaction, gorging on coitus with any available stranger during moments of extreme stress: at one point we see her straddling a stranger in the hospital basement, as light relief from waiting vigil at her father's deathbed.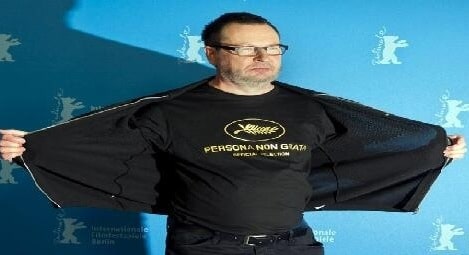 Stellan Skarsgard's Seligman resembles a sexual voyeur couched in bookish intellectualism; never giving the impression he is the slightest bit excited by the revelations. Joe, for her part, deflects any sexual overtures by presenting herself as dour, and troubled by the uninvolving experiences with her many lovers.  She does become obsessed with Jerome, her long-term sexual interest. Shia LeBoeuf, although looking the part, fails in his portrayal of a convincing object of her sexual obsession. Struggling with a strange almost South African accent, he emerges as an effete and ineffectual partner. Connie Nielsen evinces a vapid portrait of Joe's self-absorbed and emotionally-distant mother.
Despite the gently ribald humour there is a delicate melancholic quality to Manuel Alberto Claro's cinematography that manages to match the sobriety of the drama making it feel very much part of the 'Melancholia trilogy' and the musical interludes are atmospheric and complementary.  So Nymphomaniac (Volume I) manages to be provocative, subversive and strangely moving – but what else would you expect from the Danish die-hard? Volume II moves from the seventies to the present day and the flight of tongue-in-cheek surreality -continues with Jamie Bell as a sadist.
At the Berlinale premiere in 2013 Lars was jubilant, playful even; knowing that whatever he said or taken seriously – he doesn't care either way. Nymphomaniac is like going to bed with a beautiful stranger: highly-charged, unpredictable, dangerous even but always fun and exciting. Make of it what you will but enjoy the experience. MT
NYMPHOMANIAC VOLUMES 1 & II | NOW ON BFI PLAYER | NYMPHOMANIAC: DIRECTOR'S CUT (Volumes I and II) is on DVD & BLu Ray with 90 minutes of previously unseen material courtesy of CURZON FILM WORLD. A total running time of 325 minutes