Dir.: Karolis Kaupinis; Cast: Aleksas Kozanavicius, Vaidotas Martinaitis, Valentinas Masalskis, Roberta Samuolytie, Roberta Sirgedaite, Egle Gabrenaite; Lithuania 2019, 97 min.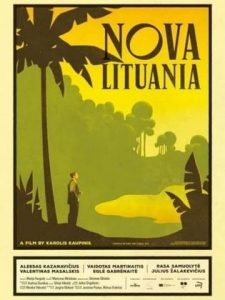 In this striking arthouse debut from Karolis Kaupinis, a Lithuanian geologist comes up with a brilliant idea to save his nation at the outbreak of the Second World War,
Nova Lituania is a complete one-off and a challenge, but stick with it and you will be rewarded. Kaupinis dabbles in some obscure alternative history. He also intercuts his drama with disturbing family scenes of the anti-hero. And Nova makes up for an enigmatic finale with its pristine black and white camerawork filmed on an old-fashioned boxy 4:3 format by DoP Simonas Glinskis.
Lithuania in the late 1930s, and middle-aged Feliksas Gruodis (Kozanavicius) is a geology lecturer at the university in Kaunas. With his small country threatened by invasion from Germany, Poland and the USSR, he dreams up a wacky scheme: a mass exodus to Africa, along the lines proposed in 1938 for the resettlement of Jewish refugees to Alaska.
Presenting this ambitious proposal to government takes some nerve on the humble scientist's part, but he accidentally bumps into prime minister Jonas Servus who is not unreceptive to the idea. His chief concern is logistics: moving 2.8 Million citizens would take some doing, and several years. But Gruodis is adamant, the arrival of 500 experts would create a good base for further emigration.
The two men put their heads together at a seaside rendezvous where they are embroiled in taking part in a military coup against the president. And homelife for Gruodis is also going through turmoil: his dominant mother-in-law (Gabrenaite) is at odds with his wife Veronika (Samuolytie). Luckily his neice Julyte (Sirgedaite) offers tea and sympathy.
Nova Lituania is very much a retro undertaking. The uncertainty of the mass exodus plan is reflected in the confused narrative structure, Kaupinis often losing sight of the storyline while indulging himself in the aesthetics and some impressive historical re-creations. Ideas are explored but remain unresolved, the overall feeling is one of discombobulation, as if the director has popped several intriguing plot devices into the mix, coming up with a riveting, but not always convincing potpourri. That said, this is a visually alluring and valiant re-imagining of history and as such should be applauded. AS
ON MUBI WITH PRIME VIDEO CHANNELS | GOLDEN ATHENA WINNER AT ATHENS FILM FESTIVAL 2019