Director: Jaume Collet-Serra and Joel Silver
Cast: Liam Neeson, Julianne Moore, Lupita Nyong'O Gwen, Anson Mount, Linus Roche, Michelle Dockery, Corey Stoll
106min    Action/Thriller    US
Based on a story by John W Richardson and Chris Roach.
Probably not a film to see before a flight or evening during one, NON-STOP is one of those 'what happens when'  films that, if nothing else,  takes you through the paces of an emergency crash landing from 40,000 feet.  You have been warned.  Fans of Liam Neeson's particular brand of gentle giant physicality will see him turning cold-blooded killer in this claustrophobic whodunit from Jaume Collet-Serra and Joel Silver (of Matrix and House of Wax fame). He plays Bill Marks, a whisky-swilling, bleary-eyed air marshall, tortured by an unhappy personal life and an uncertain future. Travelling 'undercover' on a plane to London from New York, he's faced with the unenviable task of dealing with a series of menacing and mysterious text messages effectively blackmailing him to organise, with the airline, a transfer of USD150 million into a bank account or risk having a passenger killed, every twenty minutes.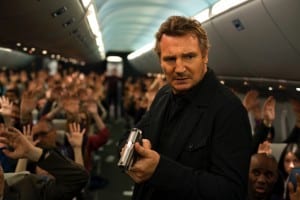 Not a bad premise thus far, although the cliche'd  dialogue hardly sets the night-flight on fire: "I hate flying; the lines; the crowds; the delays": Does anyone actually find these exciting? But some appealing characters and witty repartee could still make this a journey with some thrills. No chance there either. After a cheesy bit of bonding with a little girl on her maiden solo flight, Bill finally settles down with a neurotic passenger Jen  (Julianne Moore). She plays one of those irritating people who desperately wants the window seat and won't take 'no' for an answer, making you wish you could upgrade to club class. A few rows down sits a deeply unlikeable NYPD Officer (Corey Stoll);  a devout Muslim doctor complete with skullcap (Omar Metwally), and a mousy stewardess (Michelle Dockery) who's pale and shaky from a vegetable fast. Great. In lieu of some edgy interrogations with potential suspects, the dialogue is driven forward by text messages between Neeson and the mystery 'perp' on a special intranet.  None of this throws up any tangible clues and soon everyone on the plane is a potential culprit, and Neeson gets heavy with his uncooperative colleague, Hammond (Anson Mount) in the loo, breaking his neck in a surprisingly violent altercation. Push follows shove, none of it very edifying although there are plenty of bland, red herrings in the inflight catering, and a pilot who pops his clogs mysteriously (Linus Roche).
Jaume Collet-Serra, who also made the impressive Orphan, House Of Wax and the awful Unknown, tries to keep his vehicle buoyant with frequent fisticuffs and eventually stages a dramatic CGI-enhanced landing sequence, which is more fascinating than frightening (oxygen masks DO fall down as promised, and people DO faithfully adopt the brace position).  But this is a flight that even Julianne Moore can't save, and Liam Neeson's closing moments (where he tries to inject a scintilla of romance into the equation) will have you rushing for the sick bag. MT
[youtube id="XSF6GPNXr9Y" width="600″ height="350″]
NON-STOP IS ON GENERAL RELEASE FROM 28 February 2014