The sinister crime-laden dramas that came out of post war Hollywood were the visual expressions of anxiety. Film Noir featured venal antiheroes, mysterious femme fatales, and rain-soaked urban settings where shadows and intrigue played upon the inner consciousness. The tightly scripted stories were also richly thematic, compellingly seductive and wonderful to look at. And that iconic look was often created by women designers.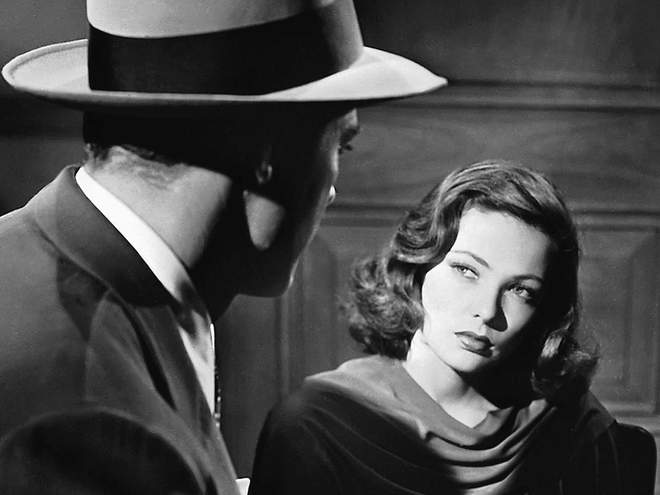 Based on hard-edged detective stories from the likes of Raymond Chandler, James M. Cain and Cornell Woolrich, 'Crime Noir' was spiced up by the wartime influx of sophisticated European craftsman such as Fritz Lang, Billy Wilder, Jacques Tourneur and Robert Siodmak whose edgy expressionism and Avantgarde lighting techniques added zest to the predominantly black & white post war genre. 
By the mid 1940s Film Noir reigned supreme. Nightly screenings – and each night was different – saw the stars of the day strutting their stuff but also looking amazing into the bargain: Barbara Stanwyck, Humphrey Bogarde, Gene Tierney and June Vincent all had their particular allure. And some Noir actors also directed the genre such as The Big Combo's Cornel Wilde with Storm Fear (1955). But while the narratives were unsavoury the costumes were quite the opposite: the elegant couture, hairstyles and even jewellery made style icons of these scheming antiheroes, adding charisma to their public profiles in stark contrast to the characters they played. By association, film noir became arguably the most strikingly seductive genre in the film firmament.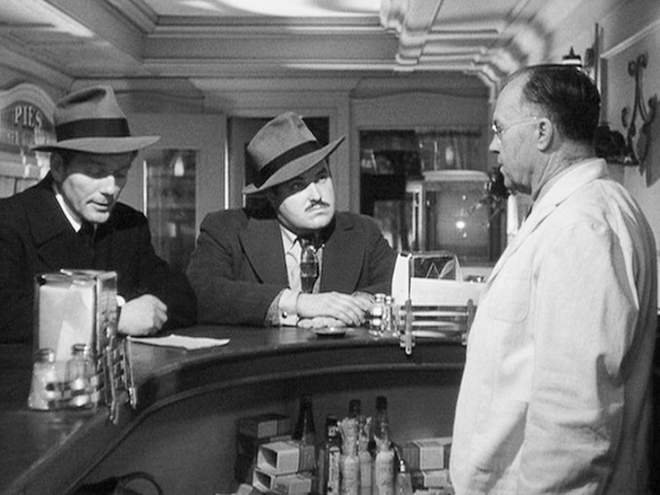 But while the filmmakers arrived from Europe, the costume designers were often American woman with noirish backstories of their own to the bring to the party. Universal's head of costume design for twenty years VERA WEST (1898-1947), met a tragic death drowning in her own swimming pool, dressed in one of her signature silk dressing gowns (ironically her designs for Virginia Grey had the been the star turn in Charles Barton's film-noir Smooth as Silk the previous year ). Although the evidence pointed towards suicide as a result of a troubled past, there have since been rumours that her husband was to blame.
West had trained in Philadelphia and worked as apprentice to the pioneering British catwalk designer Lady Duff Gordon (Lucile) before being hired by Stanley Kubrick to create Ava Gardner's look in The Killers (1946). She also designed for June Vincent in Roy William Neill's Black Angel (1946); for Teresa Wright in Hitchcock's Shadow of a Doubt (1943) and the outfits for Lewis D Collins' Danger Woman (1946). Despite these high-profile commissions, she never received an award until finally winning the Costume Designers Guild Hall of Fame in 2005. 
Another female Hollywood designer shrouded in intrigue was IRENE LENZ GIBBONS – known simply as Irene (1900-1962), whose private life was as colourful as her gowns. A shrewd business woman she ran a series of boutiques and was also appointed head of costume design at MGM, replacing the well-known legend Adrian. Her Noir credentials included couture for Katherine Hepburn, Robert Taylor and Robert Mitchum in Vincente Minnelli's Undercurrent (1946) based on a story by Thelma Shrabel.
She also was credited for the couture creations in The Postman Always Rings Twice (1946) where a married Lana Turner and her lover plan to kill her husband (Cecil Kellaway). Other Noir and thriller projects included Roy Rowland's Scene of the Crime (1949) and Gaslight (1944). Reports of her long-standing love affair with Gary Cooper were never confirmed but she committed suicide after slashing her wrists and jumping out of Los Angeles' Knickerbocker Hotel a year after his death.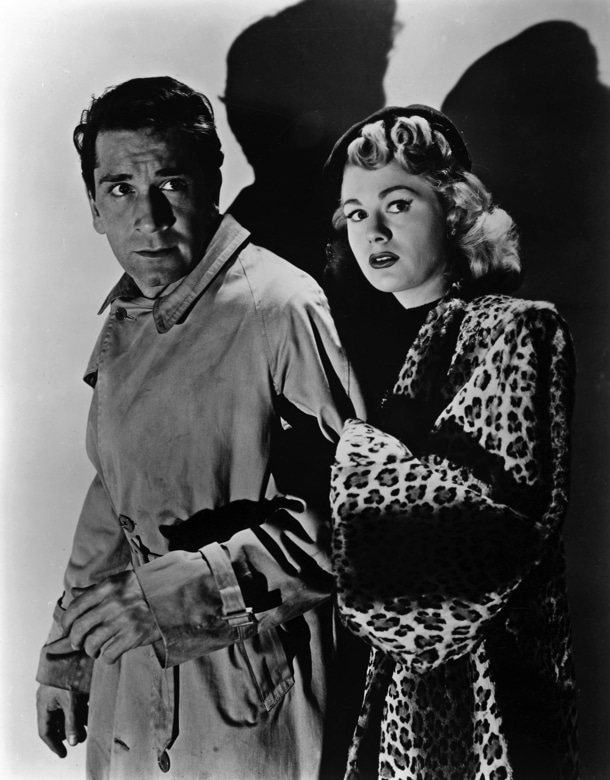 One of the most successful female designers of film noir was undoubtedly BONNIE CASHIN (1915-2000). Cashin was already making dresses from the age of 8. By 16 her talent was making her a living as designer for the chorus line based in Los Angeles which led her into theatre work in New York. Returning West in the early 1940s she signed with 20th Century Fox where she made a name for herself with the gowns in Otto Preminger's Laura (1944) and Fallen Angel (1945); Robert Siodmak's Cry of the City (1948) – Shelley Winter's leopard skin coat would have the activists up in arms, but back then it certainly made her stand out in the sleazy night scenes.
Cashin's style worked wonders for Signe Hasso in Hathaway's Oscar-winning The House on 92nd Street (1944) and for Gene Tierney in Laura. Nightmare Alley (1947) gave her the opportunity to work with a leading cast of Tyrone Power (as antihero Stan Carlyle), Joan Blondell, Coleen Gray and Helen Walker. Power's untimely death of a heart attack aged 44, saw the film gain wider circulation over the years due to his popularity, and Cashin's costumes lived on into the late 1950s and beyond. MT
LAURA is now on Bluray courtesy of EUREKA (MASTERS OF CINEMA)