New Horizons Festival is one of Poland's major international film events and a place for daring, unconventional film that push cinematic boundaries with films from Europe and beyond. Taking place in Wroclaw Poland each year with a competition programme comprising auteurish World cinema, a strand for Art cinema and the latest in Polish avantgarde film and cult classics. This year a retrospective on Tadeusz Konwicki will celebrate his life of the groundbreaking director, who died last month in Warsaw, at the age of 88.
The main competition line-up comprised premieres and titles selected from previous festival:
Arabian Nights Trilogy (Cannes); Goodnight Mommy (Venice); H (various); Heaven Knows What (various); Lucifer (Tribeca); Ming of Harlem; Twenty One Storeys in the Air; Necktie Youth
Grand Prix Best Film – LUCIFER 
Special Mention – THE PROJECT OF THE CENTURY
Audience Award – GOODNIGHT MOMMY – review below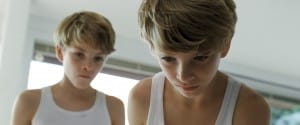 Director: Veronika Franz/Severin Fiala Producer: Ulrich Seidl
Cast: Elias Schwarz, Lukas Schwarz, Susanne Wuest
99min Austria (German with subtitles)
The Austrians are very good at taking ordinary life and turning into horror at Venice this year. In the same vein as Michael Haneke's Funny Games (1997), Ulrich Seidl's (Im Keller) wife and collaborator, Veronika Franz, makes her debut with a vicious and expertly-crafted arthouse piece, set in a slick modern house buried in the Austrian countryside.
In the heat of summer, nine-year-old Elias is enjoying the school hols with his twin brother Lukas. They appear normal boys: swimming, exploring the woods, and keeping giant cockroaches as pets. But in the pristine lakeside home, their TV exec mother has made some draconian changes. Recovering from facial surgery and bandaged up literally like a 'mummy', she has banned all friends from visiting the house while her recuperation takes place in total privacy. Nothing wrong with that, but the boys misinterpret her behaviour as a sinister sign and start to wonder whether this is really their mother. The more they question her for re-assurance, the more fractious and distant she becomes. Reacting against her instinctively, they become convinced that she is not their mother but a strange intruder, and decide to take control of the situation.
Franz and Fiala create an atmosphere of mounting suspense with clever editing, minimal dialogue and the use of innocent images that appear more sinister and unsettling when taken out of context. Martin Gschlacht's cinematography switches between lush landscapes, sterile interiors and suggestive modern art to inculcate a sense of bewilderment and unease. Susanne Wuest is perfectly cast as the icy, skeletal blond matriarch with menace and the innocent boys transformed into everyday psychopaths due to the lack of early maternal love or support, bring to mind those terrible kids from The Shining, The Innocents even Cronenburg's The Brood. A very clever film which contrasts images of revulsion with those of serene beauty. MT
Special Tribute | TADEUSZ KONWICKI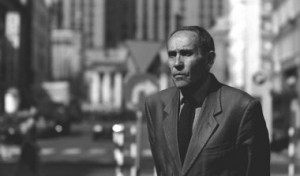 JAK DALEKO STAD, JAK BLISKO (HOW FAR, HOW NEAR)
Dir.: Tadeusz Konwicki | Cast: Andrzej Lapacki, Gustaw Holoubek, Maja Komorowska | Poland 1972 | 95 min.
With his films The Last Days of Summer and Jump, Konwicki tries to re-create the life of his anti-hero Andrzej (Lapacki), going forward, but mainly backwards through his life. Before the opening credits, we see a man falling, surrounded by collages, reminding us a little of Vertigo's pre-credit artwork. Andrzej has come to rserach, whilst his best friend Maks (Holoubek) committed suicide, but soon his search spins totally out of control and Andrzej is moving into his past. He again meets his ex-wife Musia (Komorowska), and other women he slept with. Trying to warn his friend to stay away, so as not to be killed, Andrzej finally has to face his darkest secret: the murder of a man. In a similar vein to Wojciech Has' The Hour-Glass Sanatorium (1973), time is not linear, Andrzej literally falls into different time spheres, often trying to make sense out of the situation by himself and in this way examining his motives which are not particularly altruistic.
Konwicki always stood by the autobiographical context of his novels and films: "I write books and make films about myself. In other words, I describe myself in a conditional mode, past, perfect or future tense. I create situations in which I behaved or could have behaved or wish, that I had behaved in a certain way." (Retrospective Tadeusz Konwicki at the Wroclaw International Film Festival, July/August 2015). AS
15TH NEW HORIZONS | WROCLAW INTERNATIONAL FILM FESTIVAL | 23 JULY – 3 AUGUST 2015