Written and Directed by: Petri Luukkainen
With his friends and family
80min   Docudrama    Finnish with English subtitles
Bereft by the loss of his girlfriend, filmmaker Petri Luukkainen suddenly finds the experience a cleansing one.  Maybe a general clear out of his life is in order?  Does he need so many 'things'?.  This being Finland, Petri lives in a modern, bright and well-insulated flat.  There are well-designed storage facilities nearby where he deposits his belongings and starts to live his life devoid of accoutrements and personal effects; for the time being.  And so begins Petri's fascinating social experiment. Set in a snowy Helsinki and accompanied by Timo Lassy's Jazzy soundtrack, this is a light-hearted, good natured affair – entertaining to watch and appealing in its concept.
Running naked through the snowbound streets of Helsinki feels liberating.  And gradually his friends are drawn in to the debate of what is really necessary in life. The dialogue kicks off with his grandmother who claims that after the War people were content just to have work. "Your things are not a measure of your happiness – Your  life is not made up of your things".  With counsel like this, how can he go wrong?  When his mum turns up, they eliminate more of his belongings together – including his moustache: amid her infectious laughter this is turning out to be great fun.  A fridge is necessary and some decent bedding, they agree.  He even decides to confine the use of his 'phone and camera for work. But Email?  How does he handle the problem of staying in touch socially without ignoring the inbox? Good friends drop by to visit and so he decides the quality of friendship is proportionate to their use of technology to stay in touch.  And he can always watch the game or World championships in the streets of the Helsinki.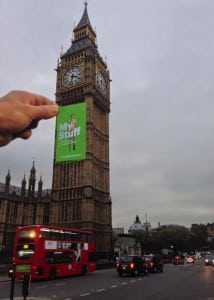 Six months into the experiment he returns to his hometown for a break.  Fortunately Finns are fun and possess a well-developed sense of the ridiculous.  His lack of belongings is emblematic of his strength of character – or that's how he sells his slimmed-down identity to potential girlfriends.  Travelling out of Helsinki and into the summery Birch-strewn countryside, Jesse Jokinen's glorious visuals capture the natural freshness of this most Northerly Nordic country with considerable allure.
And eventually a new girlfriend arrives. "Hopefully you don't shoot blanks" says his grandma when he shares the glad news. And she's dead right: "women need more things than men" and gradually the stuff creeps back into his life.  Maija's arrival brings happiness and interest to his days: he's falling in love but hasn't got the courage to tell her.  Inevitably she brings more stuff and soon the place is all  nicknacked-up  because "she wants something purple or more stylish, and so it goes on"…
Charming and endearing MY STUFF starts as a study into 'doing without' but gradually develops into something much more important and meaningful. As Petri's grandmother tells him from her new nursing home "things won't build a home – it has to come from somewhere else".  But when he starts clearing out her little flat of its treasured belongs, the tears inevitably flow: MY STUFF shows him that sometimes possessions are the only things we have left of the people that mean so much to us.  MT
MY STUFF IS SHOWING AGAIN AT THE 3RD NORDIC FILM FESTIVAL, COURTESY OF 'DAY FOR NIGHT'.
[youtube id="ckjHbArEmes" width="600″ height="350″]