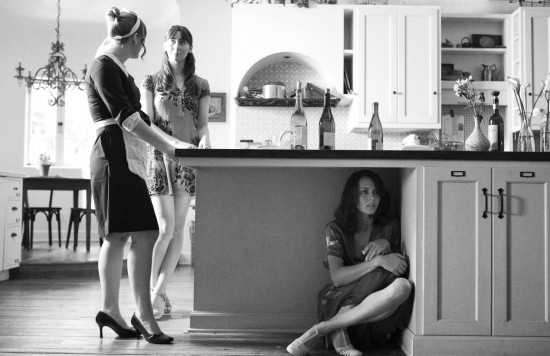 Director: Joss Whedon                       Script: Joss Wheden/Shakespeare
Cast: Amy Acket, Alexis Denisof, Nathan Fillion, Clark Gregg, Reed Diamond, Fran Kranz, Jillian Morgese, Sean Maher, Spencer Treat Clark, Ricky Lindholme
109min   US     Drama
Joss Whedon's clever comedic touch and a lively cast make this contemporary version of the bard's social drama witty and watchable. Set in Whedon's airy LA mansion (Shaker kitchens, marble floors) it's sophisticated, remarkably low-budget and classily shot in black and white.
Managing an acting company, as he does, it's not surprising that the director of Toy Story and Cabin In The Woods also has a feel for the classics and a troupe of actors who can reel off Shakespearean lines with consummate ease while managing slapstick in a production that plays like TV soap 'Coupling' or even 'Seinfeld'.  His Much Ado respects the sensibility of the original version without eschewing modern gadgetry such as smartphones, cuddly toys and a sexy soundtrack.
Alexis Denisof and Amy Acker shine as particularly good farcical lovers Benedick and  Beatrice and there is a well-played absurd twist that turns Nathan Fillian's inspector Dogberry into a figure of fun as he is let down by his hilariously incompetent henchmen. Shakespeare can be hard work but this light-hearted and vivacious version is sure to appeal to purists and young audiences alike. MT
MUCH ADO ABOUT NOTHING PREVIEWS AT THE BFI AND THEN GOES  ON GENERAL RELEASE FROM FRIDAY, 14TH JUNE 2013 AT CURZON, VUE, CINEWORLD AND THE BARBICAN.