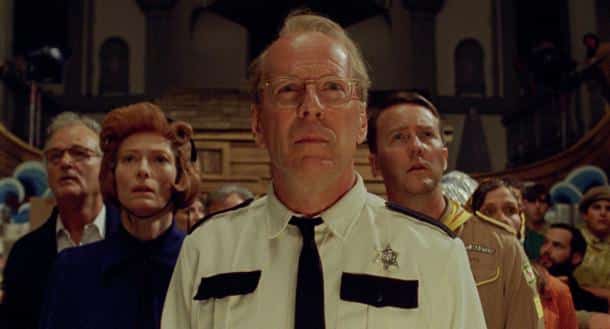 Director: Wes Anderson  94mins        Drama
Tilda Swinton, Ed Norton, Bruce Willis, Harvey Keitel, Bill Murray, Frances McDormand
Moonrise Kingdom opened the 65th Cannes Fesitval.  This is the first time that a Wes Anderson feature has made it into the contest.
True to type, he gives us a fey and whimsical story about a bunch of New England oddballs who go in search of a couple of pre-teen lovers de-camping from a scout camp during the summer of 1965.  Well played by newcomers Jared Gilman and Kara Heywood they are an unappealing duo and that's probably why they have made a love pact and scarpered for the hills but somewhere along the line the story grows more appealing.
Perhaps the reason why we start to tune into this weird adult film about children is the strong cast of Ed Norton, Frances McDormand, Bill Murray and Bruce Willis: who's generally associated with more mainline Hollywood fare but does very well here as the local sheriff. Tilda Swinton gives a fabulous turn as a slightly unhinged social worker on overdrive in the pursuit of the 'youngsters'.  The levity of the plot line is given ballast by bizarre happenings ranging from a brewing hurricane to the freak death of a terrier assisting in the chase.  A score mixing Benjamin Britten with Hank Williams further adds to the quirky feel.  This cultish director's films are abit like marmite: you either love them or hate them.  Fans will certainly welcome this one but those of you who don't know or don't care for his work should try out this kooky love story.  It strangely manages to end with more guts and glory than it had at the outset.
Meredith Taylor